MoU Signed for Rail Industry Education and Research in Thailand
Bombardier Transportation has signed a Memorandum of Understanding (MoU) with Mahidol University in Thailand to strengthen cooperation for graduate education and research in the field of rail transportation over the next five years.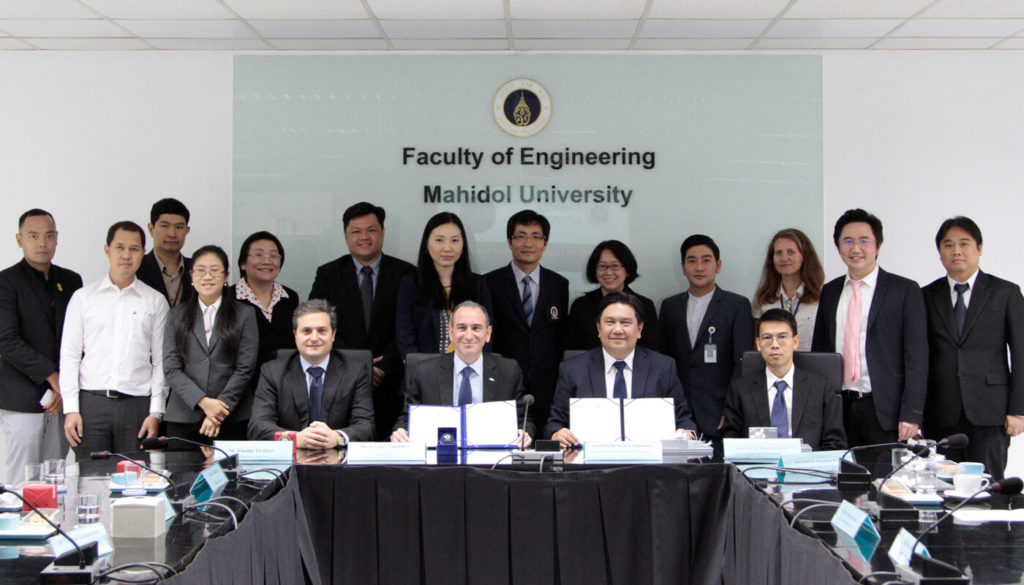 Rail Industry Education and Research
Partnerships with academia demonstrate Bombardier's commitment to investing in the communities where it operates. The MoU with the University's Faculty of Engineering supports a newly-established set of rail and logistics engineering post-graduate programmes and is Bombardier's first academic partnership in Thailand to focus on this advanced level of rail industry education and research. The agreement covers areas such as academic programmes and teaching, joint research in the areas of rail control and signalling, as well as the opportunity for internships and practical training. In Thailand, Bombardier is also developing undergraduate rail engineering education with Kasetsart University and Navamindradhiraj University's Urban Community College of Bangkok.
Gregory Enjalbert, Vice President Rail Control Solutions Asia Pacific and Managing Director Thailand, Bombardier Transportation, commented:
Bombardier remains fully committed to developing local talent in Thailand, as reflected in this prestigious agreement with Mahidol University. Over our 20-year presence in Bangkok, we have grown our team to over 500 employees working on some of the most advanced rail projects across the world and we place a high emphasis on deepening our academic partnerships to ensure the development of technical expertise and innovation in the industry.
Bombardier's Presence in Thailand
Since establishing its Bangkok site in 1997, Bombardier has grown its highly-skilled local team of over 500 employees at its Regional Hub and Engineering Centre working on rail signalling, vehicle and system integration projects for Asia Pacific and globally. This includes providing the trains and systems for Bangkok's two new, driverless Monorail lines under construction, as well as rail control for the city's expanding BTS Skytrain and Mass Rapid Transit (MRT) Chalong Ratchadham (Purple) Line, which today transport over 700,000 passengers daily. The combined Skytrain and Monorail Services are expected to carry up to two-million passengers per day, when the latter commence operations. In addition, Bombardier has equipped two sections of the State Railway of Thailand network, connecting to Bangkok. In 2017, a state-of-the-art Test Centre for advanced urban rail control was opened at the Bombardier Bangkok site to support projects across the Region.
Original article © Bombardier.
FOR ALL THE LATEST INFORMATION, NEWS, IMAGES, VIDEOS AND ARTICLES ON ALL ASPECTS OF RAILWAY RESEARCH AND TESTING, PLEASE CLICK HERE.