MRT Purple Line CBTC Provided by Bombardier
Bombardier Transportation's CITYFLO 650 communications-based train control (CBTC) technology is in operation on the newly opened Mass Rapid Transit (MRT) Purple Line in Bangkok, Thailand. The MRT Purple Line CBTC system will ensure the safety and efficiency of the new line and boost urban mobility in the city.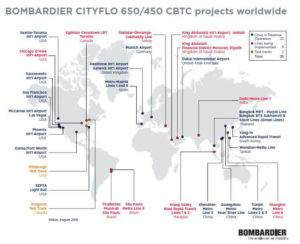 The MRT Purple Line is a key part of the on-going expansion of Bangkok's mass transit programme. The line will improve connectivity and development, while easing traffic congestion in the city. The line was opened by Her Royal Highness Princess Maha Chakri Sirindhorn and Prime Minister Prayut Chan-o-cha at a VIP launch event on 6 August.
The line will connect new areas of the city. The 23km line features 16 elevated stations and 17 underground stations. It will be the first mass transit rail link to go as far as Nonthaburi, Thailand's second most populated city, located near to Bangkok.
Peter Cedervall, President, Rail Control Solutions, Bombardier Transportation, said:
"This latest project to provide safe, reliable and high-capacity rail control for an estimated 200,000 passengers daily reflects the contribution Bombardier's technologies can bring to a city. Our solutions across the rail sector create substantial benefits for our customers, passengers and the environment."
Bombardier CBTC
Bombardier's CITYFLO 650 CBTC system will deliver a semi-automatic control solution for trains. The trains themselves have a capacity of a maximum of 880 passengers. The CBTC system also delivers minimum operational headway of 90 seconds at speeds of up to 80 km/h.
The system was delivered in 32 months, within the narrow deadlines for the new line. The accomplishment will further reinforce Bombardier's moving block, radio-based CITYFLO CBTC solutions for high-density systems in cities internationally, such as those in use in Madrid, Shenzhen and Tianjin and soon to start operation in Delhi and Kuala Lumpur.