Bangkok Metro Order Siemens and Bozankaya Trains
Bangkok Mass Transit System Public Company (BTSC) has ordered 22 four-unit metro trains from a Siemens and Bozankaya consortium. Siemens will also supply service and maintenance services for 16 years. The trains will be delivered from 2018 onwards. They will operate on the BTS (Skytrain) system and the Green Line extensions of the Bangkok Metro.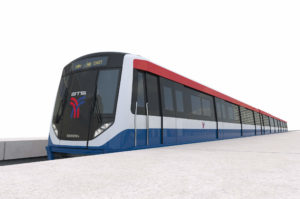 The trains, manufactured at the Bozankaya factory in Ankara, Turkey, will feature Siemens bogies, traction and braking systems and auxiliary systems. Siemens will also undertake management of the project, development, construction and commissioning of the trains.
Bangkok is a hugely important economic centre in the Asia-Pacific region, with a growing population. Roughly 60% of Thailand's total population is expected to live in and around Bangkok by 2050. The city already has a population of 20 million people. Infrastructure development, including the development of the metro, is important. By 2021, the city aims to increase public transport uptake from 40% to 60%.
Jochen Eickholt, CEO of Siemens Mobility Division, said:
"We have enjoyed a successful collaboration with BTSC over many years. With the new trains, we will be seamlessly continuing our success story in Bangkok. Specially designed high-capacity trains will enable the line to transport the over one million passengers a day that has been forecast."
Siemens Mobility developed the first three high-capacity mass transit rail systems for Bangkok. These systems have formed the foundation for further expansions. The BTS (Bangkok Transit System) Skytrain elevated system was developed by Siemens. It was originally 23km long, and the first rapid transit system in Bangkok. Since it began operating in 1999, it has substantially reduced private transport. It has since been extended by around 13km.
Two extension projects on the BTS will add another 32km to the Skytrain, with an additional 23 new stations. The total length of the network will be approximately 68km. The south extension from Bearing to Samut Prakan will open by the end of 2018. The north extension from Mo Chit to Khu Khot will open by 2020