Mitsubishi Electric Deliver MRT Purple Line Escalators
Mitsubishi Electric Corporation have announced the delivery of 49 elevators and 125 escalators to MRT Purple Line stations, administration offices, the operational control centre and car parking facilities in Bangkok. Mitsubishi has equipped eight of a total of 16 stations on the mass transit line in Bangkok, Thailand. The MRT Purple Line escalators and elevators began operating when the line opened on 6 August 2016. A total of 174 units were delivered for the order, 125 of which were heavy duty escalators and 49 of which were escalators equipped with energy saving technology in the form of a permanent magnetic motor.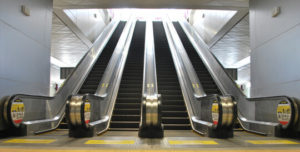 MRT Purple Line runs 23km through Bangkok and the suburbs in the adjacent Nonthaburi Province. This order is Mitsubishi Electric's second for an MRT line, following a delivery of equipment to the MRT Blue Line in 2004. The Blue Line runs 27km, connecting a total of 18 stations in Bangkok.
MRT Purple Line Escalators
The escalators for the MRT Purple Line are heavy duty to ensure the safety of passengers. They are also designed to withstand heavy passenger flows, which is especially useful during peak hours. They are also fitted with an inverter which enables energy-saving automatic low-speed stand-by. This kicks in when an escalator's sensor detects that no one is approaching the boarding area. The inverter is equipped to all escalators, which then convert to low-sped stand-by mode, thereby reducing power consumption.
The elevators feature an energy saving feature of permanent magnetic motors. This gearless traction machine in each elevator utilises an innovative, compact, energy-efficient permanent magnetic motor. This also delivers a comfortable journey for passengers by reducing vibration and noise.
The escalators and elevators for MRT Purple Line were made by Mitsubishi Elevator Asia Co., Ltd. The orders were placed by by CKTC Joint Venture for the train stations and PAR Joint Venture for the rail yard and car-parking structures.