Countdown to France's Rail Technology Showcase
There are just a few weeks to go until France's tenth SIFER exhibition of railway technology opens its doors in Lille from 21 to 23 March. This year's show has attracted more than 400 companies from 22 countries. Covering every sector of the market, the exhibition will also feature its usual strong focus on infrastructure equipment and products and the specialised subsystems and high-tech components that play vital roles throughout the industry.
The rail infrastructure sector in France continues to show resilience in a challenging market. This will be reflected in the large Infrastructure Area at exhibition dedicated to companies active in this field. Sponsored by internationally active railway works company ETF, this will include the now familiar On Track Displays of rail-mounted vehicles and track-related equipment. Among exhibitors specialising in infrastructure products and services will be Arthur Flury, Colas Rail, East Japan Railway Company, Eiffage Rail, Geismar, Matisa, Pandrol Track Systems/Railtech Welding & Equipment, SNCF Réseau and Vinci Energies.
For the rolling stock market, exhibitors will showcase products such as bogies and wheelsets, control systems, electrical and electronics equipment, fabrication services and interior fittings. Participating companies include ABB France, China's CRRC Corporation, EKE-Electronics, Forbo Flooring Systems, GHH-Bonatrans Group, Lucchini RS, Mafelec, MG-Valdunes, Polarteknik, SMTC and Titagarh Wagons AFR.
Another market sector that will be well represented is rail vehicle maintenance, with products and expertise presented by exhibitors that include BBM Officine Meccaniche, Bertolotti, Eurogamma, Niles-Simmons-Hegenscheidt and SEFAC.
Many exhibitors fit less neatly into such well defined categories or span all areas of the market. They will account for a large proportion of companies taking part in the show, with products such as cable systems, sensors, embedded electronics, station fittings, fasteners, and the supply of castings and fabrication of metals. Services such as skills training, project management and specialised consultancy will also be featured.
As France's only regular railway technology exhibition, SIFER provides a gateway for suppliers targeting the the country's market. The event also helps participating companies to pursue export opportunities, thanks to the event's track record in attracting foreign visitors. A total of 430 companies from 22 countries took part in the last SIFER in 2015. The event attracted 4,900 senior rail industry professionals, with international visitors from 40 countries accounting for 17% of attendees.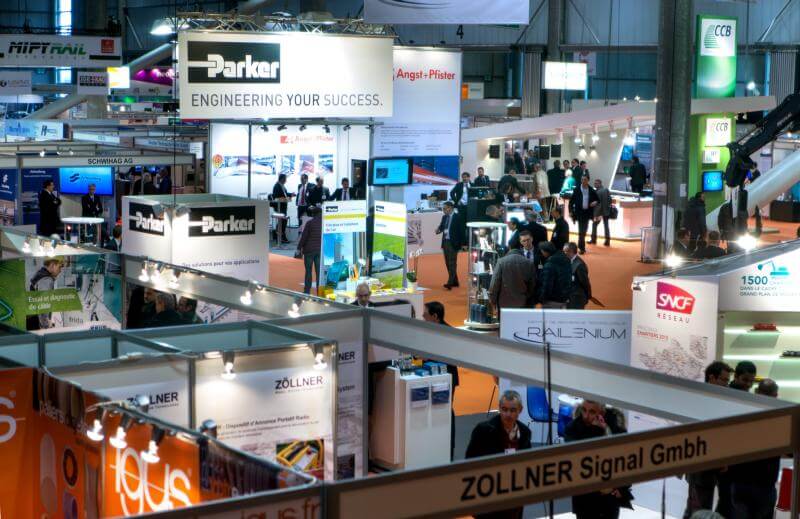 Support by Key Organisations
SIFER is supported by key organisations leading the development of railway policy and technology in France. They include the Ministry for Ecology, Sustainable Development and Energy, SNCF, rail industry umbrella organisation Fer de France and the suppliers association FIF. European suppliers body UNIFE is also endorsing the event.
A new Show Partner this year is CNES, the government agency responsible for shaping and implementing France's space policy in Europe. Last year SNCF and CNES agreed to work together to devise innovative rail solutions geared to the digital era, particularly in the area of train control. That will be a seminar topic on the third day of the show.
Among other events planned as part of SIFER are a UNIFE round table discussing the global competitiveness of the European rail industry and a conference hosted by FIF entitled "The Industry of the Future within the Rail Sector".
There will be two awards ceremonies during the show – one recognising outstanding achievements in the development of regional rail services, the other celebrating innovation as part of a wider European contest.
The associated events programme also features conferences, technical seminars, workshops, international B2B meetings, export promotion meetings and site visits.
Online registration offering visitors a discounted admission price to SIFER is open via www.sifer2017.com. The website also features a full list of exhibitors and more details of associated events.
SIFER 2017
21-23 March 2017
Lille Grand Palais, Lille, France
www.sifer2017.com