A new light rail line has opened in central Sydney. On 14 December the first passengers took the new L2 Randwick Line, which connects Circular Quay with Randwick.
The Premier of New South Wales, Gladys Berejiklian, and Transport Minister Andrew Constance performed the official opening at Circular Quay. To mark the occasion, passengers could travel for free on the line over the weekend.
"It's an historic day for Sydney as light rail takes passengers down George Street for the first time in 61 years. George Street used to be a car park with hundreds of buses and thousands of cars congested every day. Now it is one of the best boulevards in the world. The new network will move up to 13,500 commuters an hour during peak time, with one coupled tram holding 450 passengers, which is equivalent to nine standard buses. The new pedestrian boulevard will create a vibrant new shopping and dining precinct, bringing people along the route to enjoy everything it has to offer."
The ALTRAC Light Rail consortium, consisting of Alstom, Transdev, Acciona and Capella, provided the integrated light rail system, including the design, delivery and commissioning of 60 33m Alstom Citadis X05 light rail vehicles; the power supply equipment including APS – 2km of ground-based power supply – HESOP, signalling, communications, and depot equipment. The consortium will also provide maintenance services for 19 years.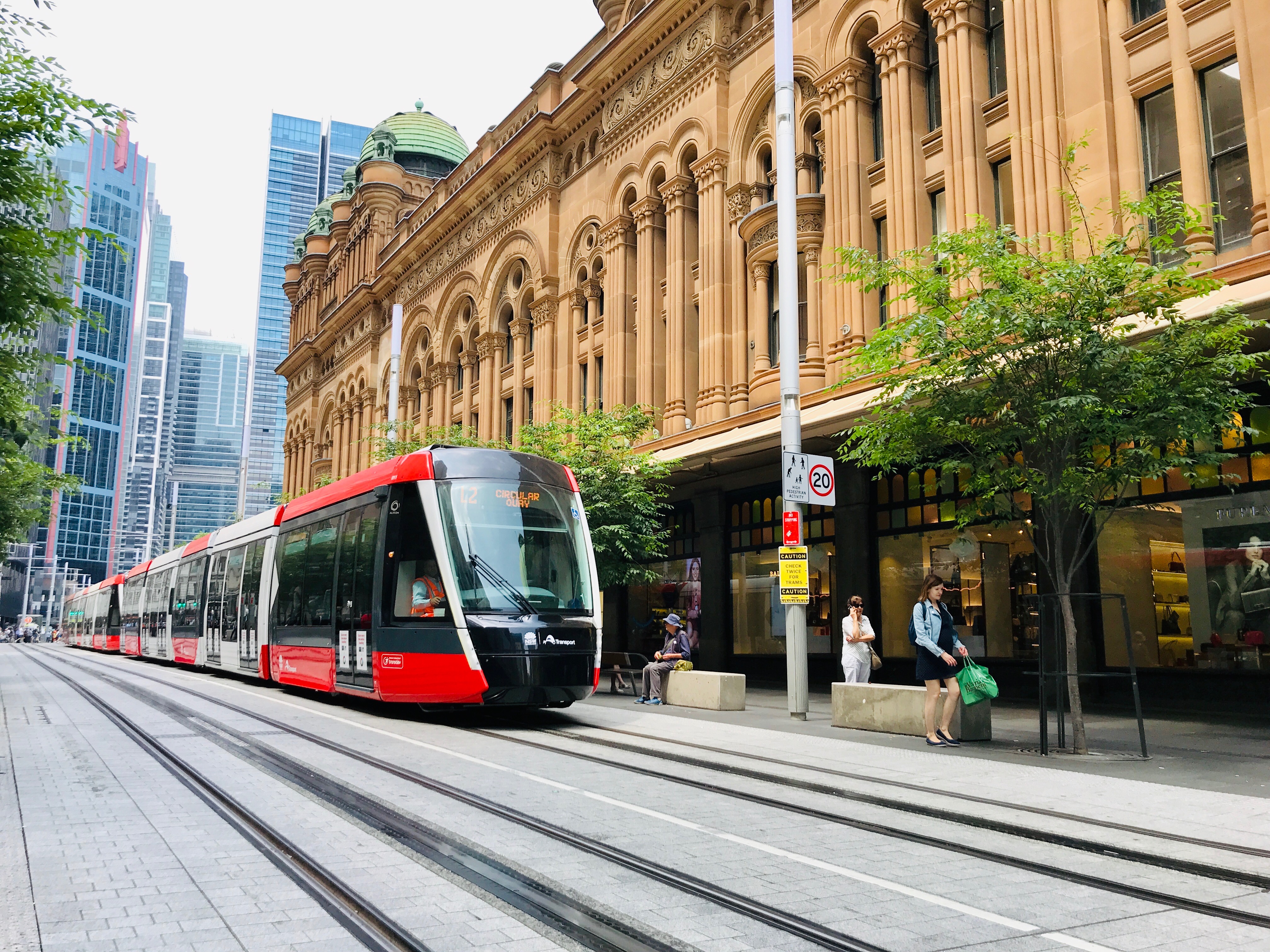 The new line is 12km long with 14 stops and will run services seven days a week between 5am and 1am. The Citadis X05 trams will operate in double formation
"The new light rail line will revolutionise the way that the people of Sydney travel through the CBD and South East for years to come. Opening the new light rail line between Randwick and Circular Quay marks the next major step to building a modern new public transport network to cater for Sydney's growing population and befits our world class city."
As part of the contract ALTRAC Light Rail has also taken on operating and maintaining the existing Inner West Light Rail line (L1 Dulwich Hill Line), which links Sydney's inner west area with the Pyrmont peninsula, Darling Harbour and the southern CBD. Alstom will also maintain the existing system, which includes 12 CAF LRVs.
"Alstom is extremely proud to be a part of this iconic project. This new Light Rail system will transform Sydney and provide a step change in the city's public transport capability and reliability while protecting the aesthetic appeal of the CBD and improving sustainability of the overall transport network."
Transport for NSW entered into a public-private partnership with the ALTRAC consortium in 2014. The contract also requires the consortium to design and build, finance, operate and maintain the new L3 line, which should start carrying passengers in March 2020. This will add a total of five stops to the LRV network.
"This Sydney milestone is a powerful endorsement of Transdev's global leadership in operating 25 light rail systems in 10 countries and comes as the final highlight of 2019 for Transdev in the light rail field, marked by numerous successes around the world."
Also read: