Athletes of the 2016 Paralympics Games Endorse Alstom's Tram of Rio
Alstom's Tram of Rio welcomed Paralympics athletes that will compete at Rio Paralympics games in Brazil that started on September 7th. The tramway line, which was inaugurated on June 5th, 2016 on time for the start of the Olympic Games, proves to be the most comfortable and accessible urban means of transport.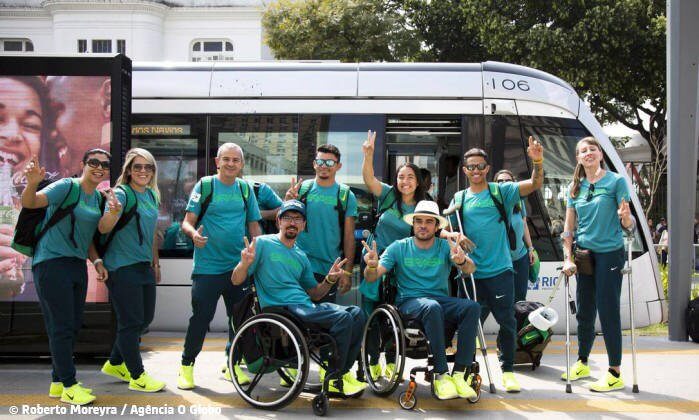 The Citadis tram for Rio is 44 meter-long and is able to carry up to 420 passengers at a time and up to 200,000 passengers per day. Citadis tram is low floor and features large doors as well as areas dedicated to passengers using wheelchairs, making it accessible to people with reduced mobility.

After a ride on the tram, Brazil's Jovane Guissone, gold medallist at London Olympic Games 2012 for wheelchair fencing commented:
"It's nice that the space between the tramway and the platform is very tight and has no danger of people falling. The space for the chair is also so good."
The Rio tramway network consists of three lines covering more than 28 kilometres, with 31 stations. 14 km long connecting Santos Domont airport to Parada dos Museus, to Rodoviaria, is open and the rest of the line will be open in the course of 2017. 
The tramway project – which was initiated by the municipality of Rio to modernise the port area – was awarded to Alstom by the VLT Carioca consortium in September 2013. Alstom is responsible for providing a full integrated tramway system which includes: 32 Citadis trams, electrification, signalling, telecommunications and depot equipment. 
To preserve and restore Rio's authentic architecture, VLT Carioca has opted for Alstom's catenary-free power solution combining two innovative technologies: APS, which supplies power via a third rail on the ground and Supercapacitors, modules installed on the roof of the tram which store and regenerate energy.
Please click here for original article.