Alstom to Supply 14 Hydrogen Fuel Cell Trains to Lower Saxony
The train of the future is here. It will be driven with hydrogen, will run completely emission-free and will start its first passenger service in Lower Saxony. It is called Coradia iLint and is built by rail manufacturer Alstom for the Local Transport Authority of Lower Saxony (LNVG).
A total of 14 hydrogen fuel cell trains will be built at the Salzgitter site and are scheduled to convey travellers between Cuxhaven, Bremerhaven, Bremervörde and Buxtehude from December 2021. They will replace the diesel multiple units of the transport authority Elbe-Weser-Verkehrsbetriebe (EVB) and will reduce the pollutant emission in daily service to zero.
Hydrogen Fuel Cell Trains
Coradia iLint is a new CO2-emission-free regional train and alternative to diesel power. It is powered by a hydrogen fuel cell, its only emission being steam and condensed water while operating with a low level of noise. Alstom is among the first railway manufacturers in the world to develop a passenger train based on such a technology.
The Coradia iLint can cover up to 1,000 kilometres with one tank fill, and can reach a maximum speed of up to 140 km/h.
Transport Minister Olaf Lies said:
From now on there will be a real alternative to diesel trains in non-electrified rail transport. Hydrogen and fuel cells are an ideal combination for climate protection as well as for the energy and transport revolution. They allow the storage of energy and emission-free travelling on rail. We fund innovative technologies and make a sustainable contribution to the energy revolution in the transport sector. I am pleased that Alstom will build the trains in Lower Saxony, thus further strengthening their production site in Salzgitter.
Gian Luca Erbacci, Senior Vice President for Europe at Alstom, said in Wolfsburg:
This day represents a real breakthrough in rail transportation and a big step change towards a clean mobility system. For the first time worldwide, a hydrogen-fuelled passenger regional train will replace diesel trains, generating zero emission with the same performance as a regular regional train and up to 1,000 km autonomy. Alstom is very proud to have developed its Coradia iLint train in Salzgitter, Lower Saxony. We are grateful to the German federal government and to the regional government of Lower Saxony for their continuous support and confidence in Alstom's strong innovation capabilities.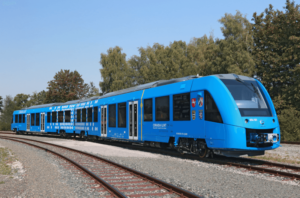 Hydrogen Supply
The guarantee of a reliable and secure supply of energy is one of the prerequisites for a successful use of fuel cell trains. The Linde Group, a world-leading gases and engineering company, will provide for the hydrogen supply of the new fuel cell trains and will therefore erect and operate the worldwide first hydrogen filling station for trains in Bremervörde. The necessary investment costs will be estimated at around 10 million euros funded by the Federal Government.
LNVG will rent the premises for the filling station from EVB and will make it available to Linde AG, which will also be responsible for the operation and construction permit. The on-site production of hydrogen by electrolysis and by means of wind energy will be planned in a later phase of the project.
Bernd Eulitz, Member of Executive Board of Linde AG, emphasised:
The use of hydrogen for rail vehicles is a milestone in the application of fuel cells for emission-free transport. For the first time, the coupling of this sector to hydrogen infrastructure will be realised within a significant scope and in an economically viable manner.  This development will push the establishment of a hydrogen society and will create new solutions for the storage and transport of energy. We are proud to be part of this innovation project.
Original article © Alstom.
FOR ALL THE LATEST INFORMATION, NEWS, IMAGES, VIDEOS AND ARTICLES ON ALL ASPECTS OF ROLLING STOCK, PLEASE CLICK HERE.