Japanese PM and Cameron Visit Hitachi Rail Site
Japanese Prime Minister Shinzo Abe and UK Prime Minister David Cameron visited Hitachi Rail Europe's North Pole train maintenance centre in West London on 5 May 2016. The tour of the facility formed part of the Japanese PM's visit to the UK. The facility is a maintenance centre along the Great Western Mainline to service the new Hitachi InterCity Express Programme (IEP) train fleet.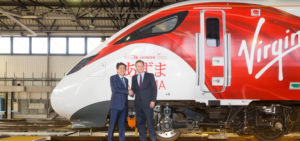 PMs Meet Staff at Maintenance Centre
Over the course of the tour, staff met with Shinzo Abe and David Cameron and explained to them the innovative maintenance regimes that the IEP trains undergo. Staff also showed their guests the pre-series test train 'T58' which is currently situated at North Pole.
Hitachi Rail's Newton Aycliffe Site
The visit was Mr Abe's first visit to a Hitachi Rail site in the UK. David Cameron opened Hitachi's £82 million Rail Vehicle Manufacturing Facility in Newton Aycliffe, County Durham, in September 2015. The Newton Aycliffe facility manufactures IEP trains for the Great Western and East Coast Main Lines, AT200 commuter trains for Scotland and most of the AT300 Intercity trains for TransPennine Express, creating 730 jobs.
PMs Shinzo Abe and David Cameron Meet with Industry Stakeholders
Shinzo Abe and David Cameron met with senior Hitachi executives, as well as IEP stakeholders including the Directors of Agility Trains, Network Rail, Great Western Railway and Virgin Trains, and representatives of the Department for Transport.
Karen Boswell, Managing Director of Hitachi Rail Europe (HRE), said:
"The visit to our North Pole train maintenance centre by Prime Minister Shinzo Abe and Prime Minister David Cameron is a very proud moment for Hitachi, highlighting the important role service delivery for our customers plays in our business alongside rolling stock innovation and manufacturing. I am delighted that our partners in the IEP programme, including Agility Trains, the Department for Transport, Network Rail, GWR and Virgin Trains were able to join us for this historic visit, as we all look forward to delivering a step-change in reliability, service, capacity and journey times for rail passengers across the UK".
Japanese PM Speaks Out in Favour of UK Remaining in the EU
As part of the Japanese Premier's visit to the UK, he warned against a British vote to leave the European Union. Shinzo Abe said at a press conference with David Cameron that:
"Japan very clearly would prefer Britain to remain within the EU.

"Many Japanese companies set up their operations in the UK precisely because the UK is a gateway to the EU."