Stadler to Supply 8 Additional Double-Decker KISS Electric Multiple Units to Hungary
Stadler has signed a contract with Hungarian train operator MÁV-START Zrt. for eight additional six-car double-decker KISS EMUs. These new trains are to enter service in 2021. This order increases MÁV-START's KISS fleet to 19.
The order for these high-capacity KISS trains marks a new chapter for Hungarian State Railways. It will be the first time that double-decker EMUs will operate in Hungary. These new trains will service the busiest suburban lines of Budapest-Vác-Szob and Budapest-Cegléd-Szolnok.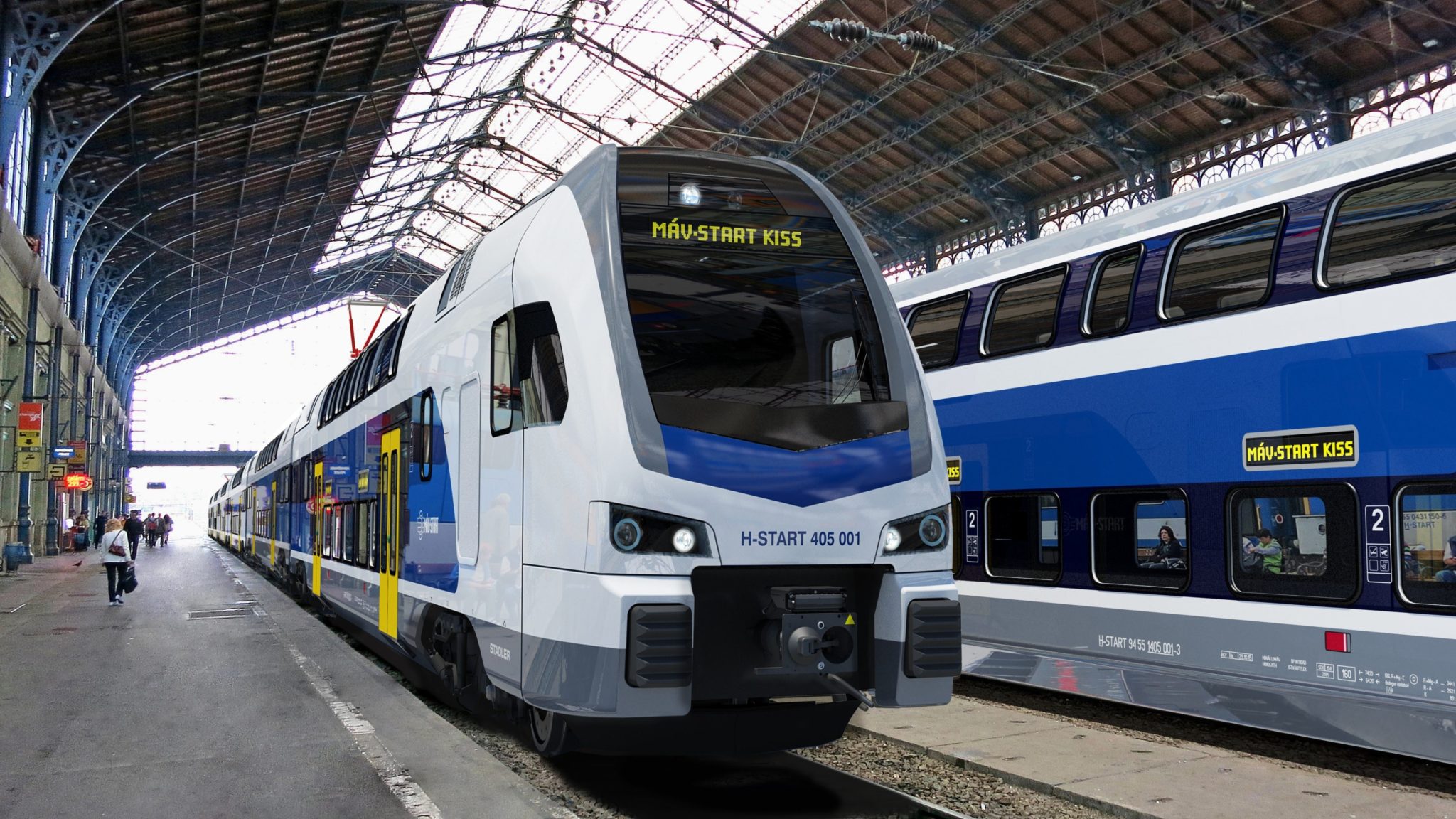 Stadler-MÁV-START Zrt. Contract & Funding
Stadler and MÁV-START signed a framework agreement in 2017 for a maximum of 40 trains. Specifically, Hungarian State Railways is able to order these trains within eight years. Today's order, coupled with the original one for 11 trains in 2017, MÁV-START has already ordered 19 out of 40.
Read: Stadler to Supply First Double-Deck Trains for Hungary
The investment is funded by the Integrated Transport Operational Programme of the European Union. Two of its four key aims address the rail sector: improving international railway accessibility; and improving urban and suburban transport. The funds for this programme come from the European Union's Cohesion Fund (2.7 billion euros) and the Regional Development Fund (630 million euros), bringing the EU's total contribution to 3.33 billion euros. The total operational programme budget is 3.9 billion euros.
Double-Decker KISS Details
The double-decker KISS trains are 155.88m in length. Furthermore, they are 2.6m wide and 4.6m high. They consist of six cars and have a capacity of 600. Markedly, this is 50 percent more than a single-storey multiple unit of the same length could accommodate. Each train comes with four toilets, of which one is also suitable for passengers with impaired mobility. There is enough room for four wheelchairs in the multi-purpose areas, as well as for 12 bicycles of five push chairs.
The new trains also conform to the latest technical standards for safety. In particular, they come equipped with Hungarian train protection system EVM as well as with ETCS Level 2. As a result, these trains are able to travel on Hungary's upgraded lines at speeds of up to 160km/h. The passengers, meanwhile, will experience a very smooth and quiet journey, while the modern passenger information system, the air-conditioning and the complementary wifi all enhance the positive passenger experience further.