ENSCO Rail Awarded Contract from Canadian Pacific
ENSCO Rail is pleased to announce that Canadian Pacific (CP) has awarded the company a contract to provide inspection systems for a new track evaluation car. The car, which will be the newest track evaluation car in the CP fleet, will be equipped with state-of-the-art track measurement and imaging system technology.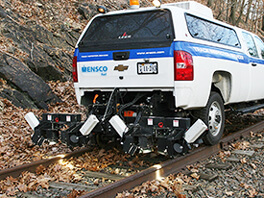 Track Measurement and Imaging System Technology
The sophisticated system suite aboard the vehicle will provide important indicators of track quality and safety. Specifically, the installed systems on the new CP car will include a Track Geometry Measurement System (TGMS), Rail Profile Measurement System (RPMS), Deployable Gage Restraint Measurement System (DGRMS), Joint Bar Inspection System (JBIS), Track Component Imaging System (TCIS), Driver View Imaging System (DVIS), and Track View Imaging System (TVIS). Together, these systems provide the data needed to make decisions to improve track maintenance and reduce operating costs.
ENSCO Rail designs, builds, operates, and delivers world class, turnkey track inspection systems that provide comprehensive performance monitoring. The company has delivered solutions on more than 50 inspection cars throughout the world to meet the needs of the railway industry.
Boris Nejikovsky, President of ENSCO Rail, said:
"We are proud of our continuing relationship with Canadian Pacific and are enthusiastic about the opportunity to deliver the track inspection systems for Canadian Pacific's new track evaluation car"
About ENSCO Rail, Inc.
For more than 45 years, ENSCO has been leading the rail industry worldwide in developing new and advanced technologies to improve the safety, security and quality of their operations. ENSCO is a leading provider of automated and autonomous inspection systems, web-based data management systems, vehicle dynamics analysis and simulations, and large-scale systems integration for federal and commercial railways. The ENSCO name represents the rail industry's premier source for track inspection, vehicle/track interaction monitoring, railroad asset management technology, and PTC/train control inspection and services. The ENSCO Rail subsidiary provides products and services to commercial customers. Learn more
Original press release credit: ENSCO Rail
FOR ALL THE LATEST INFORMATION, NEWS, IMAGES, VIDEOS AND DOWNLOADABLE DOCUMENTS FROM ENSCO RAIL, PLEASE CLICK HERE.