ENSCO Wins 15+ Year Track Safety Project From Etihad Rail
ENSCO Rail, Inc., the international leader in track inspection technology, announced today that Etihad Rail, the developer, and operator of the UAE National Rail Network, awarded the company a multi-year contract for a state-of-the-art track inspection vehicle to assist in the building of the UAE's first freight and passenger railway network. With a mandate to manage the development, construction, and operation of the UAE's national freight and passenger railway network, Etihad Rail aims to link the UAE's trade, industry, and population centers.
ENSCO will provide Etihad Rail with a comprehensive track inspection vehicle equipped with multiple safety-focused track inspection systems and data analysis services over a 15-year contract. The contract will feature an array of measuring and inspection systems including two key ENSCO technologies:  the Ultrasonic Rail Flaw System, designed to detect internal rail flaws that, if they go undetected, can cause a safety risk and the Point Asset Inspection System, which performs a comprehensive inspection of point assets such as turnouts. ENSCO is also proud to collaborate with French car builder, Socofer, the vehicle manufacturer to be outfitted with ENSCO's technology.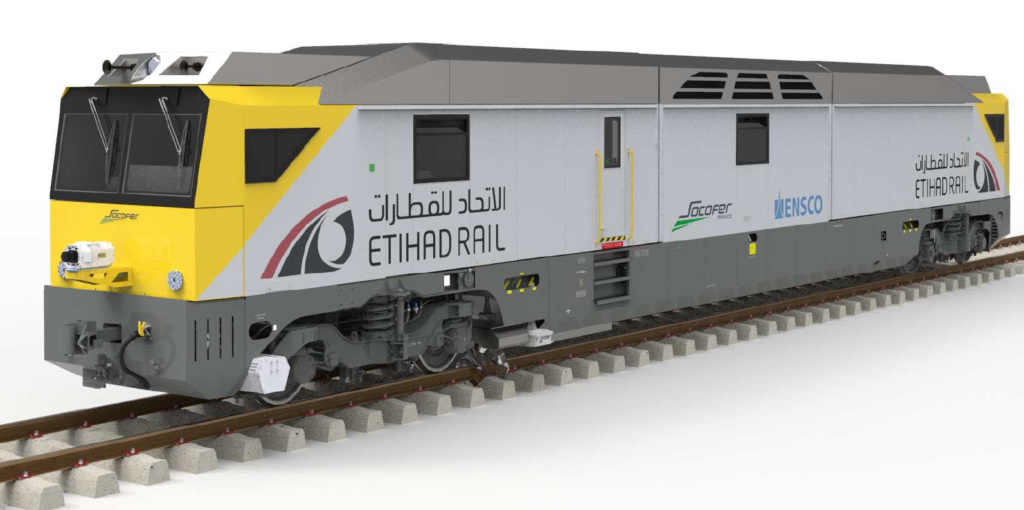 "ENSCO's engineers have pioneered the use of advanced inspection measurement technology, high resolution imaging technologies, and automation software to provide Etihad Rail with cutting-edge tools to ensure track safety while increasing efficiency and productivity. Through top-level track inspection technology, Etihad Rail will achieve operational efficiencies for freight traffic that will be reliable, sustainable, and predictable, while its passenger service will achieve ground transportation based on superior track maintenance and inspection tools with a constant focus on safety for passengers, workers and the communities it serves."
Stage One of the Etihad Rail network has been fully operational since January 2016, and important milestones have now been achieved on Stage Two, with 75% of the project being completed in less than 28 months, despite the challenges of the pandemic. Built to international standards, the railway will link the principal centers of trade, industry, manufacturing, production, logistics, population, and all the major import and export points of the UAE, and form an integral part of the Gulf Cooperation Council (GCC) railway network.
This article was originally published by ENSCO Rail.