ENSCO Rail to Deliver ATGMS and Rail Profile Measuring System to Rumo ALL
Rumo ALL, under a competitive bid, selected ENSCO Rail, Inc. to supply an Autonomous Track Geometry Measurement System (ATGMS) and Rail Profile Measurement System (RPMS). These systems will be installed in early 2017 on an existing freight car dedicated to track condition evaluation.
The onboard technology will continuously monitor track geometry and rail wear conditions. The information will be offloaded for processing using cellular and other means to the ENSCO TrackIT®, web platform, and GeoEdit 8, desktop software platform. This will be the second Track Measurement Vehicle equipped by ENSCO systems in the Brazilian market.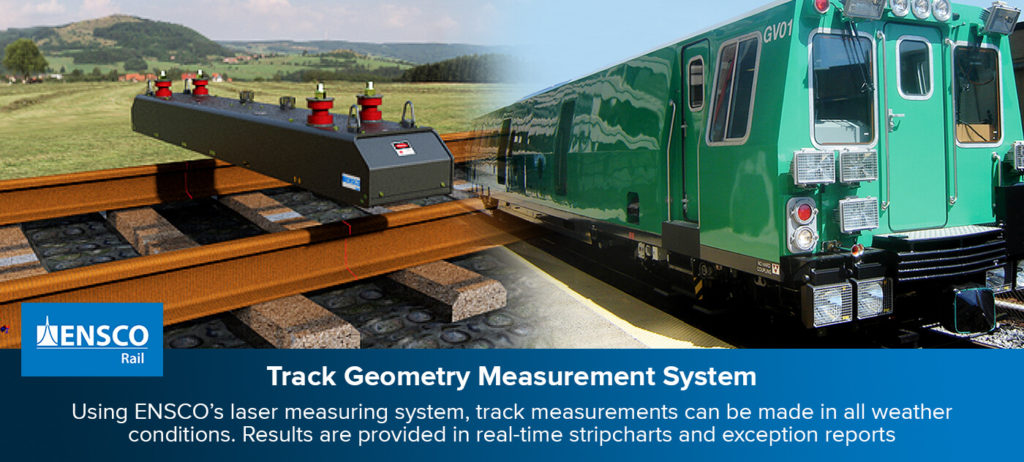 Boris Nejikovsky, President of ENSCO Rail, said:
"ENSCO Rail is proud to continue to grow our presence in Brazil with these systems"

"The autonomous measurement systems and office and web platforms for data analysis will assist Rumo ALL in improving its existing infrastructure and preparing for future expansion."
Rumo ALL is a 7,500-mile freight rail network operating in Brazil with headquarters in Curitiba, where the business is predominantly comprised of agricultural commodities and industrial products.
About ENSCO Rail, Inc.
A wholly owned subsidiary of ENSCO, Inc.
For more than 45 years, ENSCO has been leading the rail industry worldwide in developing new and advanced technologies to improve the safety, security and quality of their operations. ENSCO is a leading provider of automated and autonomous inspection systems, web-based data management systems, vehicle dynamics analysis and simulations, and large-scale systems integration for federal and commercial railways. The ENSCO name represents the rail industry's premier source for track inspection, vehicle/track interaction monitoring, railroad asset management technology, and PTC/train control inspection and services. The ENSCO Rail subsidiary provides products and services to commercial customers. www.ensco.com/rail
Original press release credit: ENSCO Rail, Inc.
FOR ALL THE LATEST INFORMATION, NEWS, IMAGES, VIDEOS AND DOWNLOADABLE DOCUMENTS FROM ENSCO RAIL, PLEASE CLICK HERE.