ENSCO Rail Showcases Automated Track Inspection Technologies at InnoTrans 2022
The rail technology company will highlight new capabilities for global carriers
ENSCO Rail, the world's leading supplier of automated track technology, will attend InnoTrans 2022, September 20-23, at the Messe Berlin ExpoCenter City in Berlin, Germany to showcase its cutting-edge track inspection, maintenance, and safety technologies. ENSCO technology and services help customers improve the quality of their operations while making rail transportation safer.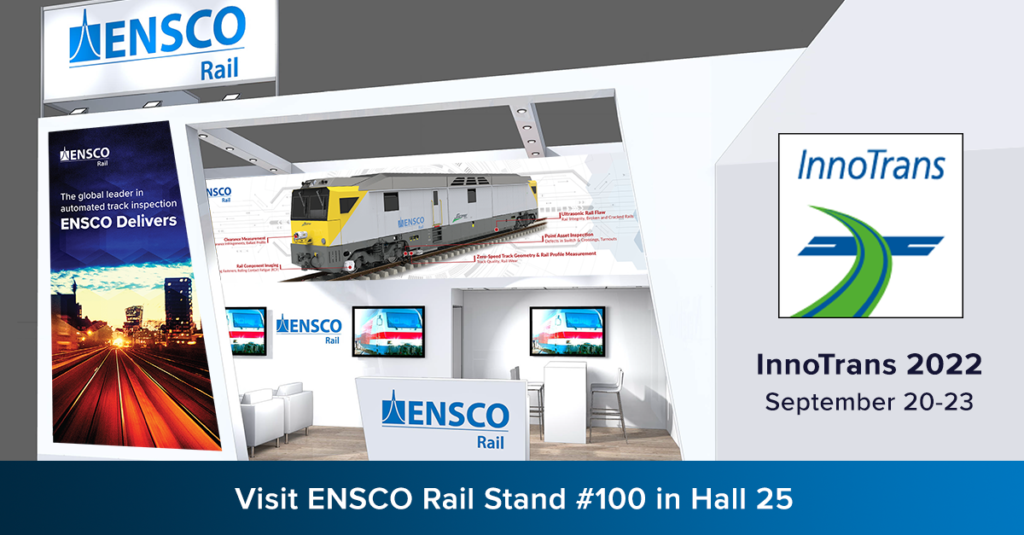 ENSCO Rail's technology revolutionizes the rail industry with improved prevention of broken rails and welds by using complementary technologies such as its Ultrasonic Rail Flaw System (URFS), the most reliable method in the industry for preventing broken rails. The URFS brings value to the industry by reducing false-stops, increasing productivity through automation, increasing accuracy of true-positive detections, and measuring corresponding conditions to aid in the prediction and prevention of rail flaws.
"We are pleased to showcase our innovative automated track inspection systems to the world's leading rail carriers, suppliers, and public transport officials attending InnoTrans 2022. ENSCO's engineers have pioneered the use of advanced inspection measurement technology, high resolution imaging technologies, and automation software to provide global rail carriers with state-of-the-art tools to ensure track safety while increasing efficiency and productivity."
ENSCO Rail brings over 45 years as a leading global supplier of automated track recording cars and condition monitoring equipment; advanced track asset management and maintenance planning tools; and premiere vehicle and track engineering services. Our technologies and services are utilized across a broad base of railway operations including Freight Railways, High Speed Rail, Metro Transit and Mining Operations to ensure safety, efficiency and production optimization goals are met. ENSCO Rail has maintained its position at the forefront of the industry by continuously introducing new and innovative technologies such as machine vision inspection of track components and autonomous inspection systems from revenue service rail vehicles.
On October 1, 2022, in support of advancing railway research and safety, ENSCO will begin a five-year contract to manage the U.S. Department of Transportation – Federal Railroad Administration's Transportation Technology Center (TTC) in Pueblo, Colorado. The TTC is the world's largest transportation testing, research, and training facility and is a 50-square mile (80 km) enterprise for railway, transit, and other surface transportation modes to conduct research on test tracks and in specialized labs for rolling stock.
This article was originally published by ENSCO Rail.