France: Citadis Dualis Tram-Train Enters Service on Le Bourget Line
Alstom's Citadis Dualis tram-trains entered commercial service on 01 July 2017 on the section of the T11 Express line that runs between Epinay-sur-Seine and Le Bourget.
The first Citadis Dualis was delivered to SNCF Mobilités for Ile-de-France in August 2016 followed by a delivery rate of one train per month, making it possible to carry out tests progressively.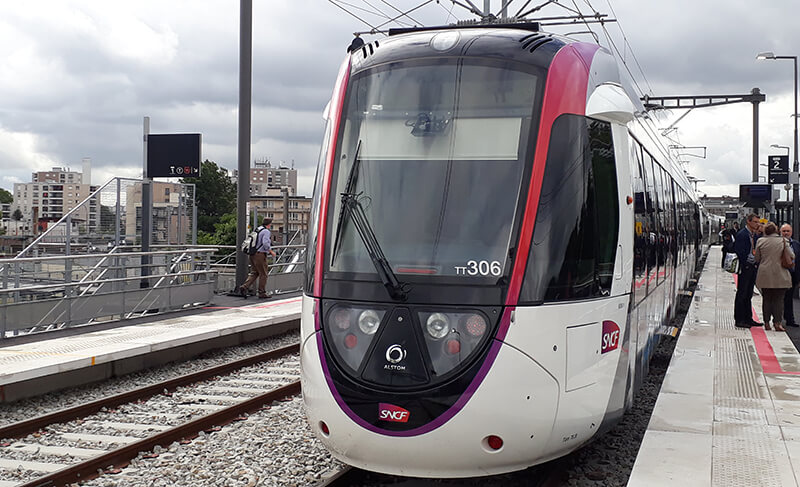 Citadis Dualis Tram-Train
Designed based on Alstom's Citadis tram, the Citadis Dualis tram-train can run on a tramway network just as easily as on a regional rail network thanks to adaptations related to power, safety and comfort. This configuration makes it a highly versatile means of transport: it has the same dimensions as a tram, meaning it can circulate in town, while its performance, the same as that of a train, allows it to transport passengers at speeds of nearly 100 km/h in outlying areas without the need to switch transport modes. Citadis Dualis provides the link between the city centre and the suburbs without having to change trains, reconciling the advantages of the train and the tram.
Jean-Baptiste Eyméoud, President of Alstom in France, said:
"Alstom's teams are very proud of the entry into commercial service of this new versatile mode of transport for SNCF and the STIF. In particular, we worked on increasing reliability to meet operational constraints in Ile-de-France"
48 Citadis Dualis tram-trains are in operation to date:
24 in the Rhône-Alpes region to the West of Lyon since 2012 and 24 in Pays-de-la-Loire, which entered commercial service on the Nantes-Clisson and Nantes-Châteaubriant lines in June 2011 and February 2014 respectively. The trains ordered for Ile-de-France are currently being manufactured in Valenciennes. Five other French Alstom sites are involved in the manufacturing process: Ornans for the motors, Le Creusot for the bogies, Tarbes for the traction drive equipment, Villeurbanne for the on-board electronics and passenger information systems, and Saint-Ouen for the design.
Original article © Alstom.
FOR ALL THE LATEST INFORMATION, NEWS, IMAGES, VIDEOS AND ARTICLES ON ALL ASPECTS OF ROLLING STOCK, PLEASE CLICK HERE.