Windhoff Equips Europe's First Carbon-Neutral Depot With High-Tech Rail Products
Last week the recently completed ICE maintenance depot in Cologne-Nippes was opened with an official ceremony. This plant is the first carbon-neutral maintenance plant in Europe.
According to Deutsche Bahn (DB) it will reduce CO2 emissions by 1,000 tons and is operated without using any fossil fuel.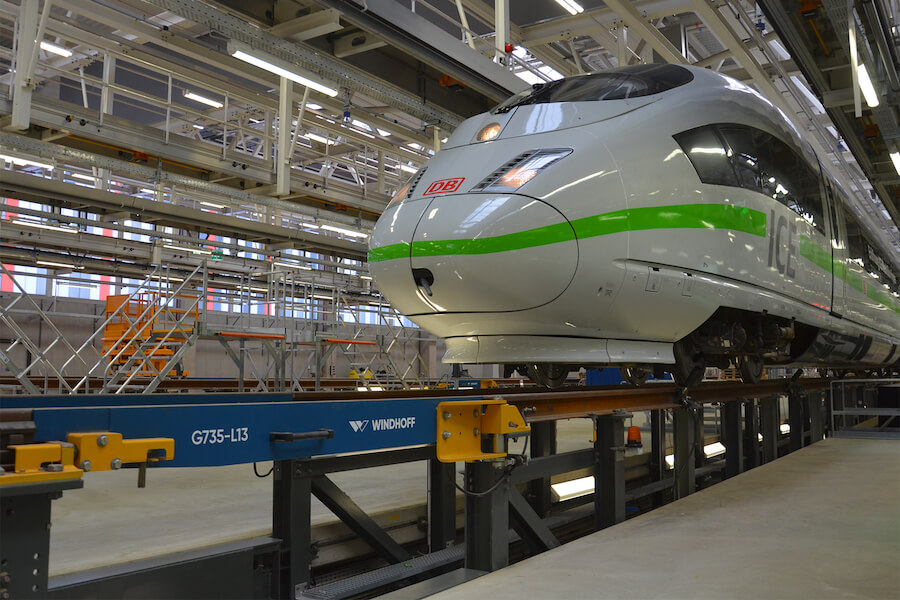 High-Tech Rail Products from Windhoff
The new ICE depot has been fitted with four 430-meter-long elevated rail tracks for the maintenance of the ICE fleet with 68 rail bridges, wheelset drops, a turntable bogie drop pit for the exchange of the bogies, a turntable and a traction cable installation for the external cleaning system (train wash facility) all supplied by Windhoff.
In addition Windhoff supplied the emission-free, battery-electrically driven shunter TeleTrac RW60AEM-QF complete with transverse gear. It is used as a shunting vehicle for a subfloor turntable to ensure that the wheelsets are positioned with high precision. Hydraulically driven, lowerable running gear for road mode with heavy-duty wheels are positioned on the face of the 34-ton shunter so that the vehicle can be lifted and positioned laterally on a concrete slab in transverse direction to the rail tracks whenever necessary.
Windhoff is proud of having made a major contribution towards the realisation of this groundbreaking project.
About Windhoff
Windhoff Bahn- und Anlagentechnik GmbH, Rheine, Germany, is a worldwide supplier of a broad range of high-tech rail products with a focus on rail vehicles and railway as well as shunting technology.
FOR ALL THE LATEST INFORMATION, NEWS, IMAGES, VIDEOS AND DOCUMENTS FROM WINDHOFF PLEASE CLICK HERE.