Windhoff Receives Order for Two-Axle Maintenance Vehicles
From the Norwegian infrastructure manager Jernbaneverket the WINDHOFF rail and plant engineering GmbH has received an order for the delivery of 21 two-axle maintenance vehicles for use for the superstructure and the driving power supply.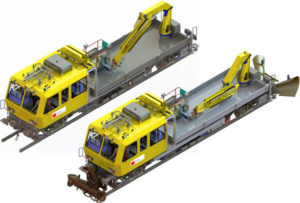 The multifunctional all year vehicles come in summer and winter use. They round off the product range of WINDHOFF MPV – Multi Purpose Vehicle – from an easier maintenance and repair vehicle.
In winter, it is provided, alternatively use the vehicles with a whisk or a plow on the front of the vehicle and a snow plow at the rear.
In addition to already existing Schneeräumequipment there is an option to place the mounting plates at the ends of vehicles, add new snow removal equipment and operate by the vehicle's hydraulics.
The engine output of 500 kW is transmitted hydrodynamically for distance drive up to 100 km / h and the labor movement is realized hydrostatically driven.
For universal use a loading crane is built at the rear, which is suitable in its special design in addition to the work on the track body also responsible for governance.
Equipped with a work basket, the vehicles are to be used throughout the year as intervention vehicles with faults on the overhead line.
For use in the summer, the crane can also be equipped with mulcher and crane cab.
Visit Windhoff for more information.