New WINDHOFF In-Floor Lifting Plant for Underground Railway Rolling Stock in Berlin
The new in-floor lifting plant for underground railway rolling stock at Berliner Verkehrsbetriebe's Machandelweg site entered service last autumn.
The WINDHOFF plant is used to lift various types of underground railway rolling stock in coupled and decoupled condition to enable maintenance and inspection work as well as bogie replacement to be performed beneath the vehicles.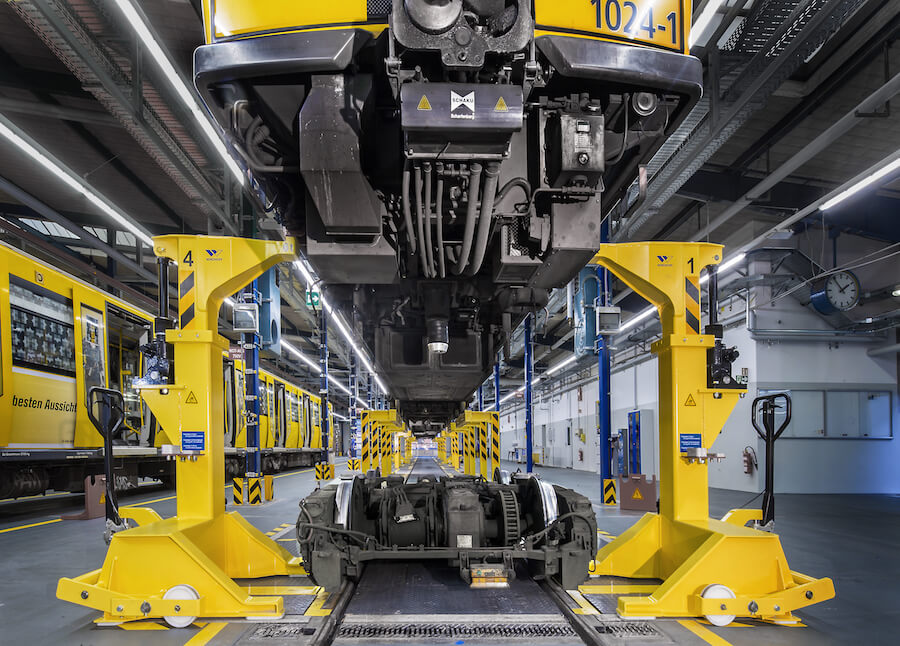 The new WINDHOFF plant consists of 8 in-floor bogie jacks with cantilever arm load posts and 4 accompanying mobile body supports. The bogie jacks are each equipped with a 3,200 mm long rail bridge. The carrying capacity of each bogie jack is 11 tonnes; that of the body supports is 6 tonnes. This combination enables the bogies to be lowered without problems and facilitates the exchange of components.
In its basic position, the plant is located at ground level, and can be driven over with industrial trucks. The so-called split rail system enables acceleration and brake loads to be diverted into the fixed rail section.
In-Floor Lifting Plant for Underground Railway Rolling Stock
The WINDHOFF in-floor lifting plant's lifting process is carried out using a patented central post system. During lifting, trailing pit covers automatically close off the rail bridge contour that arises, enabling hazard-fee work at all times. The lifting part of the rail bridge is equipped with roll protection devices and raises the bogies up by their treads. During bogie exchange, the mobile body supports are positioned beneath the vehicle- specific lift support points so that the rail bridges can be safely lowered with the bogie. All rail bridges are additionally equipped with lighting to make the working area beneath the vehicle brighter and safer.
In the future, the majority of underground railway vehicles (lines 1 to 4) will be maintained and, if necessary, repaired in Machandelweg using the new WINDHOFF in- floor lifting plant.
FOR ALL THE LATEST INFORMATION, NEWS, IMAGES, VIDEOS AND DOCUMENTS FROM WINDHOFF PLEASE CLICK HERE.