The WINDHOFF Pit Stop Concept: Get Back on Track Faster
Between 2017 and 2018, the most complex and technically sophisticated in-floor lifting system in the world was built in Olten, Switzerland.
It comprises 16 lifting units carrying 40 tons each, with 48 car body lifters and a total length of 180m as well as fully automatic operation. It was designed according to the WINDHOFF Pit Stop Concept for quick bogie replacement and delivered ready to use.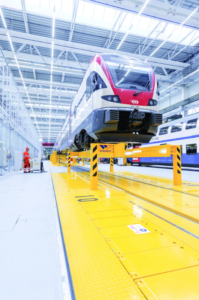 The Pit Stop Concept means: a fast lift – a quick swap – and back on track in no time. Our motto: "get back on track faster".
A shunting vehicle carefully pushes the trains into the intended position so that they are placed exactly over the in-floor lifting system. The position has been calculated and monitored by the control system. Now the system can start. Up to 150 m multiple units from the latest series are lifted here.
The system currently stores 38 different train combinations – every conceivable variation has been pre-programmed. The system is expandable to accommodate for future requirements ensuring that any modifications can be incorporated quickly.
300 tons, exactly balanced, down to the millimetre, across a length of 150 metres. Even the smallest deviations in precise synchronisation are automatically corrected in fractions of a second. The lift synchronisation works perfectly.
300 tons are lifted effortlessly. Absolutely synchronously across 150 metres safely and quickly as if by magic.
A quick check-up… then the screws fixing the bogie are loosened. All at an ergonomically perfect working height for the technicians. Following that the car body lifters move into position and engage with pinpoint accuracy. Absolute safety for all personnel and materials involved is guaranteed. The technicians can move freely under the train at any time without the need to elevate the train and without additional safety devices necessary. This is extremely convenient for the technicians and the customer and saves a lot of time and money.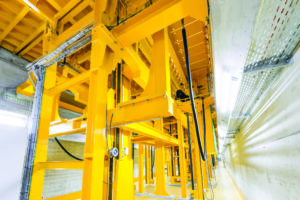 The dismantled bogies are lowered and removed, the new ones are positioned under the wagon, then lifted and bolted together. Lastly, the final inspection… Done!
The train is now sent back to the piste…or…the rail line! After all, it should go back to making money as soon as possible.
Even two shorter trains, regardless of whether they have different configurations, can be placed one after the other and be maintained independently.
An accessible, 4.5m deep installation pit ensures that the subfloor lifting plant can be easily serviced at any time. Stable, trailing pit covers seal the pit automatically, enabling work to be performed safely at all times.
WINDHOFF Bahn- und Anlagentechnik GmbH, Rheine, Germany, is a globally operating manufacturer with a broad portfolio of technologically sophisticated products in the railway vehicles, rail and shunting technology sectors.