DB Opens its First Carbon-Neutral Depot for ICE Trains in Cologne
The completely carbon-neutral ICE (Inter City Express) maintenance depot opened in Cologne on February 23, with a symbolic and ceremonious handing over of the keys. The new plant measures 23 hectares, which corresponds to more than 32 football pitches.
The first ICE train was also welcomed in Europe's most cutting-edge and most environmentally friendly ICE pant owned by Deutsche Bahn. To honour this occasion it was adorned with a green stripe, instead of its standard red stripe.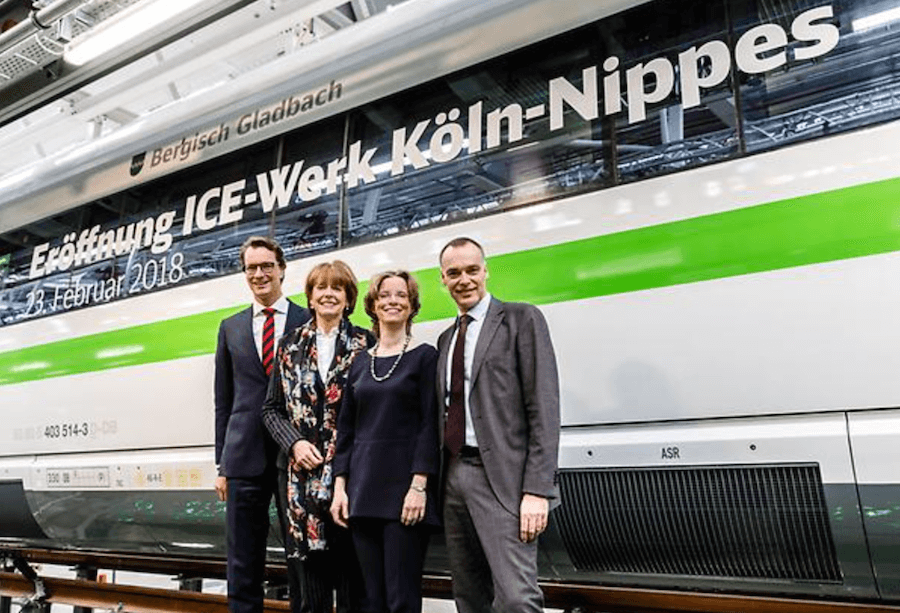 Berthold Huber, who is in charge of passenger traffic at Deutsche Bahn, said:
'With the first carbon-neutral ICE plant in Cologne Deutsche Bahn is strengthening its pioneering role with regards to protecting the climate. In addition, our long-distance passengers have been travelling with 100% green electricity since January'

'Passengers are benefitting twice: taking the train isn't just more environmentally friendly now; by increasing the maintenance capacities in Cologne by a factor of four, we are also increasing the reliability and comfort of our ICE trains. More than that: we are creating 400 new jobs here.'
Carbon-Neutral Depot for ICE Trains
Deutsche Bahn has invested around 220 million euros into this green ICE plant. It was built using largely regional materials. Once up and running the green plant will be carbon-neutral and therefore make an annual saving of 1,000 tons of carbon dioxide. All ICE series, including the ICE 4, will undergo maintenance here. This plant quadruples the maintenance capacity of DB's Cologne location, with a nationwide increase of 12%. This leads to more quality and reliability in DB's long-distance trains.
Deutsche Bahn is still looking for employees, particularly in mechatronics and electronics, train drivers, experts in warehouse logistics and engineers. 170 people have already been employed and over the next few years the number of jobs at the site will rise to 400.
This is How the Green ICE Plant Works:
In order to run the plant as carbon-neutral, DB will use geothermal heat and electricity from solar power; the temperature in the facility will be maintained by using the geothermal energy of the 12.5ºC groundwater. During the summer months the water will cool the hall and the neighbouring buildings. During the winter three heat pumps will raise the groundwater temperature to a pleasant temperature level in order to heat the buildings. 2,100 square metres of solar panels with an installed performance of 300 KWh, which cover the energy needs of the heat pumps. The plant makes do entirely without the use of fossil fuels. In order to reduce the noise pollution for local residents DB has laid special quiet rails for the trains to run on.
Deutsche Bahn wants to be an environmental pioneer. By 2030 the specific carbon emissions will be reduced by 50% compared to 2006. DB also wants to increase the percentage of green energy from 42% to 70%. By 2050 train travel is to be emission-free.
Original press release © Deutsche Bahn.
FOR ALL THE LATEST INFORMATION, NEWS, IMAGES, VIDEOS AND ARTICLES ON ALL ASPECTS OF ENVIRONMENTAL PROTECTION, PLEASE CLICK HERE.