For the first time, Deutsche Bahn (DB) has awarded all the parts of the general contract for the manufacture, delivery, installation, commissioning, and testing and approval of lifting jack sets to one single bidder.
At the beginning of April the invitation to tender was decided in favour of WINDHOFF, and a considerable part of the order income in the Rail Technology department is thereby secured for years to come. The contract, which has an 8-year term, includes four batches of lifting jacks in load capacities 16, 20, 25 and 35 tonnes, with unit quantities of 4, 8, 10 or 12 lifting jacks per set.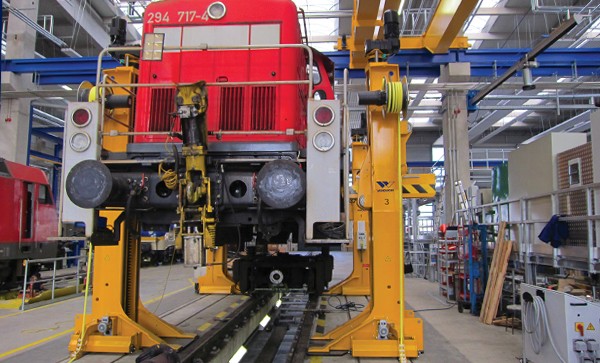 More about WINDHOFF
Since 1889, machine building and plant construction have been core activities at WINDHOFF. Today, the company from Rheine, Germany, focuses on the design, manufacture and supply of a broad range of high-tech products, from rail vehicles for railway construction, attachments, railway depots to shunting technologies. Diligent and analytic planning, high product quality and dedicated services constitute the groundwork for the successful business development at WINDHOFF Bahn- und Anlagentechnik GmbH. Customers enjoy first rate attention – from initial consulting to comprehensive services.
Our Rail Vehicle product range comprises dedicated solutions for the construction and maintenance of railtracks and catenary installations, whereby WINDHOFF boasts a long-term experience in the design and manufacture and certification of rail vehicles for tramways, metros and standard gauge rail systems.
For railway depots WINDHOFF supplies individual mechanical equipment such as subfloor lifting systems or turntables as well as complete workshop installations for any given situation. The WINDHOFF range of shunting systems starts with compact rope winch devices for the shunting of individual rail cars or train sections with loads of up to 3,000 tons. This programme is complemented by two-way vehicles based on commercial lorry designs and by a new generation of small, Diesel-powered shunting locomotives.
Based on its long experience, WINDHOFF provides optimum technical problem solutions, designed and realised with certified quality for both individual and series production units.
For more information visit windhoff.de.