The VGF (Urban Works Transport Company Ltd in Frankfurt-am-Main) is going to extend its fleet of rail vehicles and has placed an order with WINDHOFF Bahn- und Anlagentechnik GmbH for a new 3-section track laying train.
With this new acquisition VGF Frankfurt wants to start the phased modernisation of its fleet of works vehicles, because the transport wagons or ballast trucks used for track laying works on both the underground and tram networks are, in part, still pulled by old "K – wagons" dating from the 1950s.
3-Section Track Laying Train
The unit will be developed by VGF and the WINDHOFF Company from Spring 2020 onwards, and according to the current plan should be delivered and commissioned into service by the second half of 2022.  It will consist of three sections:  firstly, two track works vehicles with driver's cab, motor and payload area, one of which is fitted with a loading crane.  Both these vehicles are approx. 13 metres in length and sit on two bogies with a complement of four axles in total.  The vehicles are equipped with a fully air-conditioned cabin with driver's cab and sufficient space for up to six people.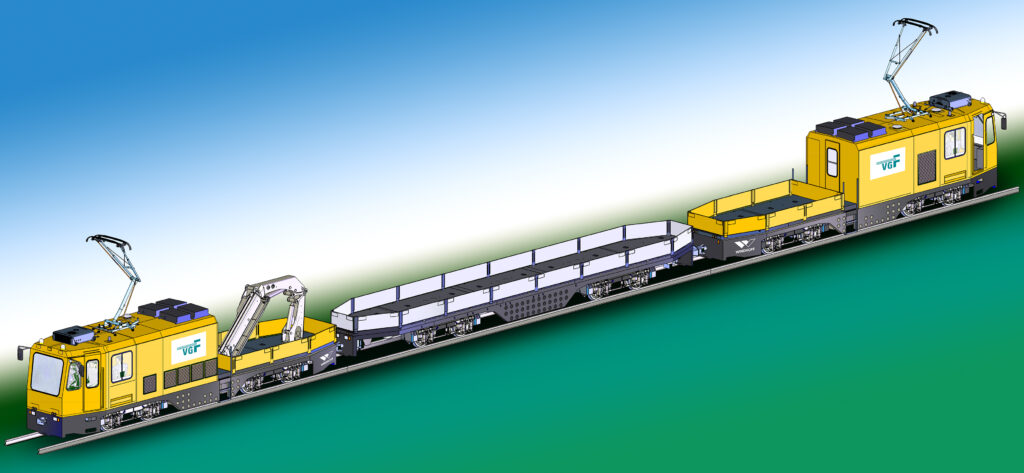 Works Vehicle with Electric Drivetrain
The special feature of the WINDHOFF vehicles is the electric drivetrain with electric current collector.  However, since track installation as a rule is accompanied by the switching off of overhead cables and traction current, works vehicles of this type are typically driven by diesel motors as standard.  The new VGF vehicles were also designed with an auxiliary diesel unit so that they could operate in this way.  During the upcoming period of detailed vehicle development, VGF and WINDHOFF will explore the possibilities of developing an alternative technology for this auxiliary drive unit, for example, fuel cells or rechargeable batteries.  As such it is entirely possible that the vehicles will be delivered not only with an auxiliary diesel motor, but also with an additional alternative drivetrain.
Up to now, electrically driven works trains have been the exception on urban railway systems.  But in order to invest in a sustainable future and be able to work in line with possible operating restrictions, VGF has taken the conscious decision to turn away from the diesel engine which has, up to the present time, been obligatory.
Rail Transport Wagon
A four-axle rail transport wagon makes up the additional third section of the train unit.  This wagon measures approx. 17 metres coupling to coupling, and has a payload area 15.5 metres long.  On this wagon, rail sections up to 15 metres in length can be transported to the sites.  The crane on one of the works vehicles is designed so as to be able to lift rails from the transport wagon coupled to it and lay them on the track bed even under the overhead cables in a tunnel on the underground network where the clearance is just 3.9 metres.
The train can arrive at the deployment site in various combinations:  as a three-section or a two-section unit, or even with the works vehicles operating solo.  When the two works vehicles are coupled together – whether that's with the transport wagon in between or not – the train unit can operate in either direction without limitation.  In this way it can be deployed extremely flexibly.
Scope of Operation
The new works train can be deployed in the future for all works on the tracks of the underground and tram networks in Frankfurt.  It can transport everything necessary for the job, whether that be 15 metre long sections of rail, building materials and machinery, or other equipment.  It is also suitable for the underground transport of escalators, or escalator sections.
About VGF
VGF is Frankfurt's urban transport business.  In the year 2019 it carried over 202.5 million passengers (1.665 million more than in 2018) on nine underground lines, ten tram lines and 133.52 kilometres of operating routes.  Last year 2476 employees and around 400 track vehicles provided mobility for the public in a city of 758,574 inhabitants with more than 350,000 commuters on workdays.  In addition, VGF is also responsible for the fixed transport infrastructure of the city, including among others 84 underground stations, 27 of which are below ground level, and 139 tram stops.
About WINDHOFF Bahn- und Anlagentechnik GmbH
WINDHOFF Bahn- und Anlagentechnik manufactures a broad spectrum of technologically sophisticated products in the fields of track vehicles and rail and shunting technology, and operates worldwide.  WINDHOFF is a successful, innovatively structured enterprise with around 270 employees, and has its head office in Rheine, as well as additional separate locations in Switzerland, Great Britain, Norway and in Singapore.