DIN Rail Power Supplies for Harsh Industrial Environments
The MTM Power DIN rail module HSA50 has been designed as a universal compact power supply with AC- (90…264 VAC) and DC (120…340 VDC) wide input range for the use under rough environmental conditions.
The modules are available with the single outputs of 12 V, 24 V and 48 V. The ambient temperature range is -25…+70 °C and the dimensions are 42 x 115 x 75 mm. They comply with protection class II, the Low Voltage Directive as well as the up-to-date EN standards as regards CE conformity. Moreover, the modules are VDE as well as UL/cUL, UL 508 approved.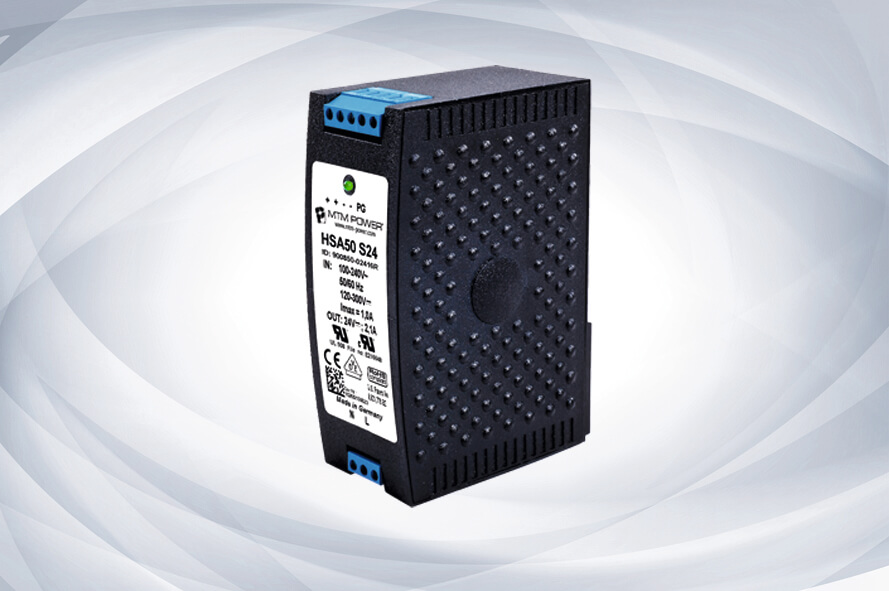 Universal DIN Rail Power Supplies
Further to the proven standard features, this module offers additional technical optimisations for the use in switching cabinets. The case design enlarges the heat dissipating surface of the power supply and in combination with the high efficiency leads to an optimised heat emission. Thus, the device remains cool even with higher ambient temperatures and provides therefore a high reliability. In case of overload, a regulation concept has been used which ensures a safe start even under most difficult load cases. The regulation allows a maximum over current of up to 1,6 times of the nominal current with decreasing output voltage. By this bent U-I-characteristic curve it is guaranteed that the device is not too strongly stressed thermally in case of overload and that even with regularly occurring overloads the life time is not reduced. As a standard, the output voltage is monitored by a power good signal. The module can optionally be delivered with parallel and redundancy operation.
Specialists in Rail Electronics
Rugged electronic components provide only part of the solution for the electronics systems used in new rail industry designs and legacy equipment. That is why Charcroft Electronics offers a team of product specialists who understand the challenges of designing, upgrading or maintaining electronics systems in harsh environments and over an extended lifecycle.
FOR ALL THE LATEST INFORMATION, NEWS, IMAGES, VIDEOS AND DOCUMENTS FROM CHARCROFT PLEASE CLICK HERE.