19″ Plug-In Unit with 150 W for Railway Applications
Based on the PCMDS150, especially designed and already well-proven for applications in vehicle and railway technology, MTM Power now offers a 24 Vout version as a 19″ plug-in unit.
A special feature of the PCMDS19 150 is the connector on the front plate where both input and output voltage can be connected. This connector is of course suitable for railway applications. The converter is available with a wide input range of 50,4…154 VDC for the battery voltage of 110 VDC acc. to EN 50 155 and an isolation of 2.2 kVAC. The dimensions are 178.5 x 70.8 x 128.4 mm (length x wide x height).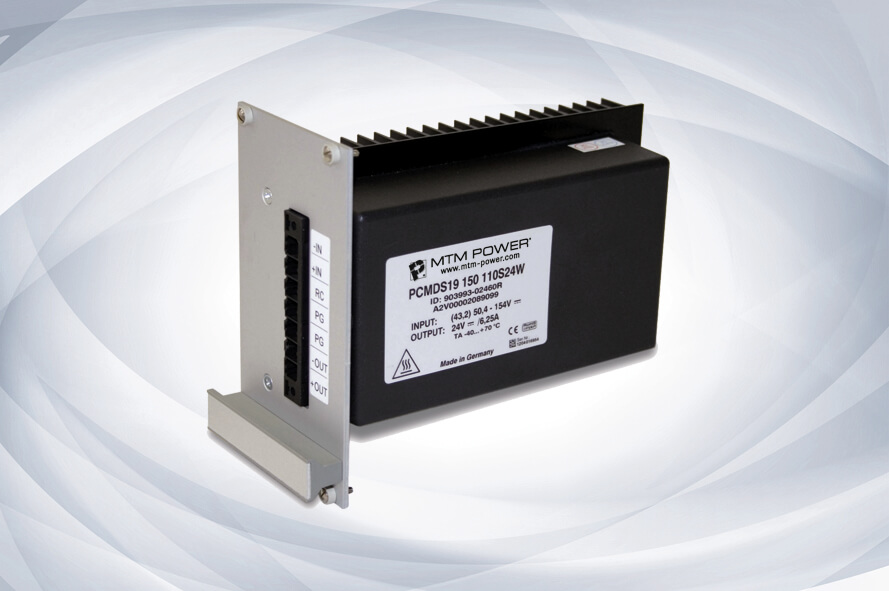 Converters for Railway Applications
The thermoselective vacuum encapsulation (EP 1 987 708, U.S. Patent No. 8,821,778 B2) guarantees uniform heat dissipation within the module as well as excellent resistance against environmental influences such as shock, vibration and humidity. In addition, the converter is cooled via the installed heat sink.
The device needs no ground load and is short-circuit protected by primary and secondary power limiting. The maintenance-free converter can be operated in parallel, is prepared for the use in devices with protection class II and can be switched into an energy-saving stand-by operation mode by a remote-control input. It shows a mechanically and electrically rugged design using SMD technology and undergoes an automatic piece-by-piece test.
To further discuss this product, or any other of our Rail Application products, please contact Charcroft on [email protected], or 01591 610408.
About Charcroft
Charcroft Electronics is a privately-owned specialist distributor and manufacturer of electronic components for harsh and high-end applications. The distribution linecard is focussed on passive, interconnect, electromechanical and optoelectronic components as well as power supplies and rugged semiconductors.
At its UK-based, BS- and CECC-approved production facility Charcroft manufactures custom passive assemblies, audio and precision foil resistors in addition to silver mica and legacy ceramic capacitors. This facility is a Vishay-approved Precision Centre for Bulk Metal® Foil resistors and offers taping and reeling, in addition to Precision Express® manufacturing for prototype and pre-production quantities. Charcroft is approved to BS9000, IECQCECC and BS EN ISO9001:2000 and has over 40 years of experience as an Approved Supplier to major OEMs and CEMs in the industrial, defence and other high-end sectors.
FOR ALL THE LATEST INFORMATION, NEWS, IMAGES, VIDEOS AND DOCUMENTS FROM CHARCROFT ELECTRONICS, PLEASE CLICK HERE.