Airpax ICL Series Rail-Mount Hydraulic Magnetic Circuit Breakers
Designed specifically for 35mm DIN rail, Airpax ICL series Rail-Mount Hydraulic Magnetic circuit breakers offer the advantage of quick and easy mounting or removal which results in efficient and economical wiring while conserving space.
These circuit breakers are available in 1, 2, 3 pole models with a choice of handle colour with on/off and international I/O markings.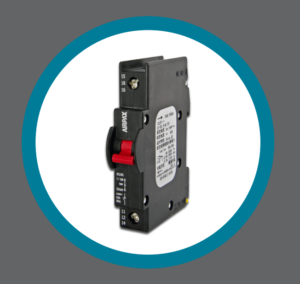 Rail-Mount Hydraulic Magnetic Circuit Breakers
These breakers are approved to CCC, CCRC, UL (pending) and IEC (pending) standards. Typical applications include railway signalling, computers, telecom/datacom equipment, telecommunications, medical & industrial equipment etc. They provide the reliable performance associated with hydraulic magnetic circuit protection.
These circuit breakers are designed to mount on standard 35mm DIN rails, such as 35×7.5 or 35×15 DIN EN50022.
Features
Hydraulic-Magnetic technology

Up to 3 poles, 0.5 amps to 63 amps rated current at up to 415 VAC

CCC and CCRC approved

UL1077 recognized (supplementary breaker) (pending)

IEC approved (pending)

Up to 10,000 AIC short circuit amperage rating

Available in various current and time delays

Precise trip characteristics

Trip indication with mid-trip position

Auxiliary and alarm switches are available
To further discuss this product, or any other of our Rail Application products, please contact Charcroft at [email protected], or 01591 610408.
About Charcroft
Charcroft Electronics is a privately-owned specialist distributor and manufacturer of electronic components for harsh and high-end applications. The distribution linecard is focussed on passive, interconnect, electromechanical and optoelectronic components as well as power supplies and rugged semiconductors.
At its UK-based, BS- and CECC-approved production facility Charcroft manufactures custom passive assemblies, audio and precision foil resistors in addition to silver mica and legacy ceramic capacitors. This facility is a Vishay-approved Precision Centre for Bulk Metal® Foil resistors and offers taping and reeling, in addition to Precision Express® manufacturing for prototype and pre-production quantities. Charcroft is approved to BS9000, IECQCECC and BS EN ISO9001:2000 and has over 40 years of experience as an Approved Supplier to major OEMs and CEMs in the industrial, defence and other high-end sectors.
FOR ALL THE LATEST INFORMATION, NEWS, IMAGES, VIDEOS AND DOCUMENTS FROM CHARCROFT ELECTRONICS, PLEASE CLICK HERE.