PRINT POWER Modules PMAS24 from MTM Power
The primary switched PRINT POWER modules PMAS24 from MTM Power have been designed as universal compact power supplies for PCB mounting with AC and DC wide input ranges (90…264 VAC, 100…353 VDC) for worldwide application and allow an efficient, cost-saving solution for different tasks where medium-ranged power is needed.
The devices offer 24 W constant output power and are available with 5 V, 12 V, 15 V, 24 V and 48 V output voltage. The 24 V and 48 V output voltages are optionally available as Limited Power Source acc. to UL1310 NEC Class II. The dimensions of the PMAS case are 76.0 x 50.7 x 22.7 mm. The power supplies are vacuum encapsulated (EP 1 987 708, U.S. Patent No. 8,821,778 B2), prepared for applications in Class 1 and/or 2 and comply with the low voltage directives as well as to the up-to-date EN standards as regards CE conformity.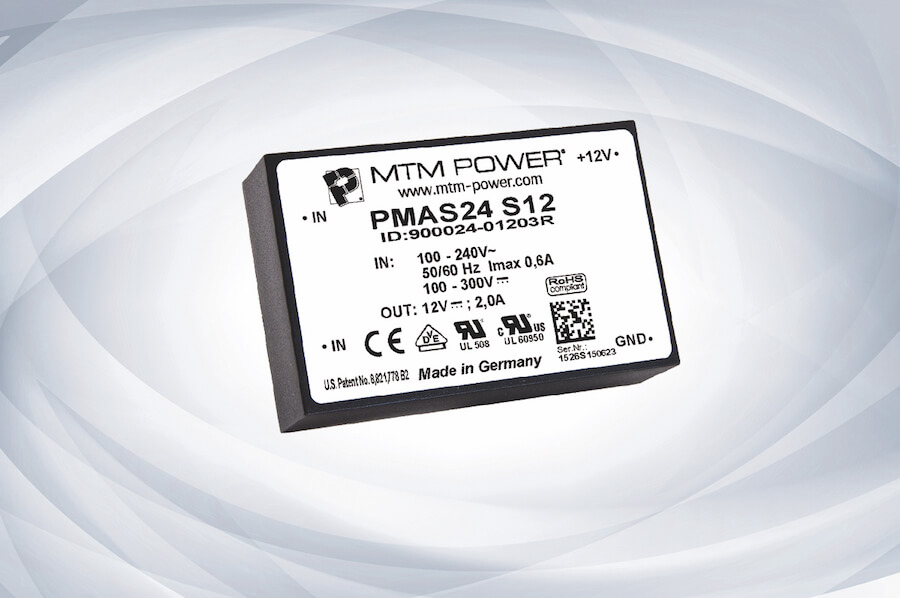 Further features are rugged design, SMD-technology, 100-%-burn-in-test and automatic 100 % final test. The PMAS24 is short circuit protected, needs no ground load, has a reduced stand-by power and is VDE as well as UL/cUL approved.
The modules are also available for chassis mounting (PCMAS24) with dimensions of 110.0 x 50.8 x 23.0 mm.
Power Supplies for Railway Applications
MTM Power is a leading solutions provider of power supplies for railway applications, delivering innovative products with a flexible and reliable core business structure. MTM Power delivers a variety of EN 50 155 compliant DC/DC converters devised for vehicle and railway applications. As well as rail converters, MTM's portfolio includes DC/AC inverters, filters and multi-power supply systems, as well as AC/DC modules with alternative applications.
Specialists in Rail Electronics
Rugged electronic components provide only part of the solution for the electronics systems used in new rail industry designs and legacy equipment. That is why Charcroft Electronics offers a team of product specialists who understand the challenges of designing, upgrading or maintaining electronics systems in harsh environments and over an extended lifecycle.
FOR ALL THE LATEST INFORMATION, NEWS, IMAGES, VIDEOS AND DOCUMENTS FROM CHARCROFT PLEASE CLICK HERE.