The first test tram has run on the new Trafford Park Line in Manchester. The line, which is 5.5km long and features six stations, will run from Pomona to the Trafford Centre. The project, which cost 350 million GBP, will open early next year.
The test tram travelled along Trafford Wharf Road overnight on Sunday. This test took place at walking pace, accompanied by engineers who performed essential safety checks. This initial test run marked the start of a comprehensive safety and testing process, which will begin with the development of signalling and control systems infrastructure.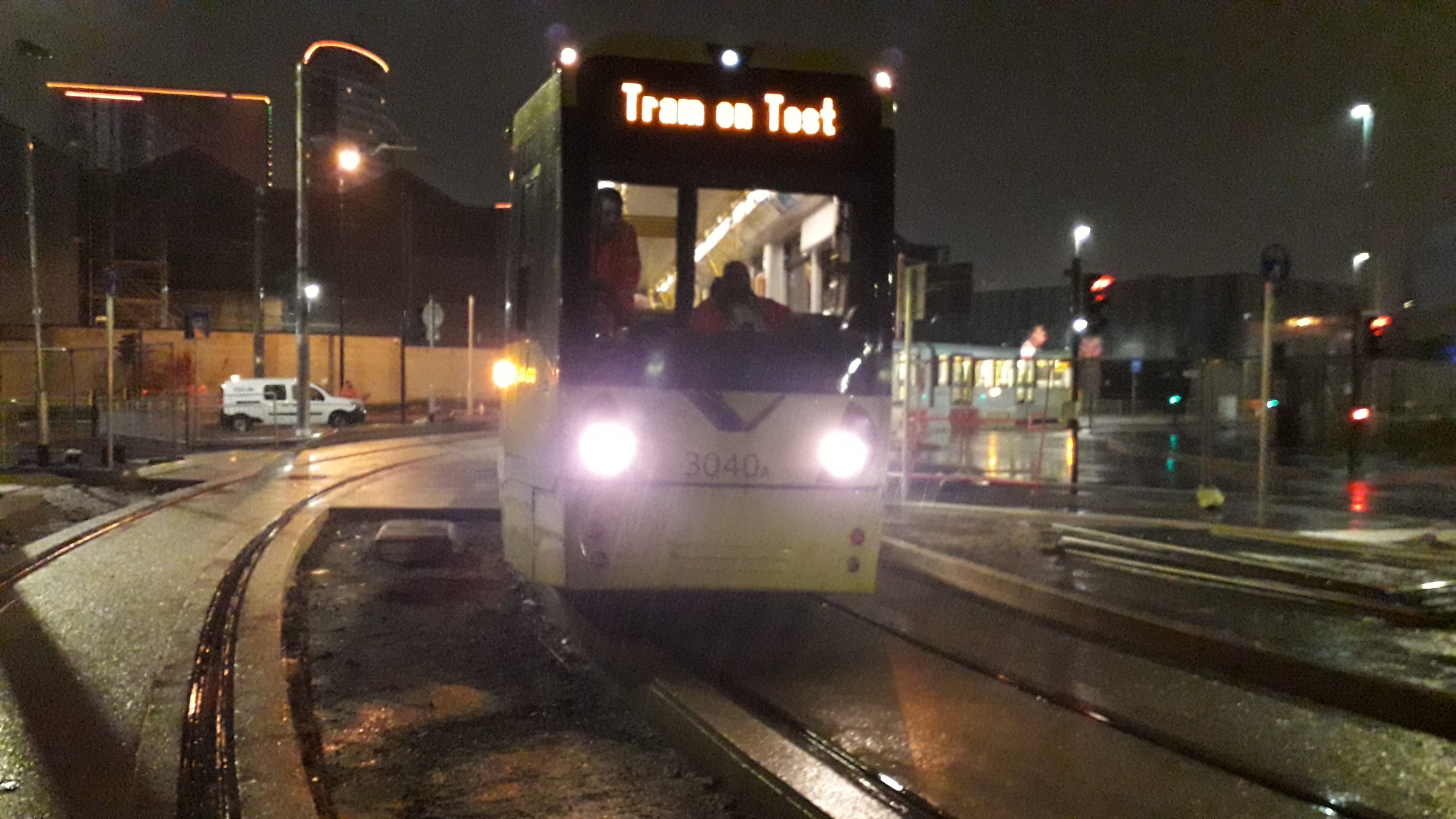 Testing will now continue for a few months. After that, driver training can take place before the line opens in the first half of 2020.
The final piece of track construction took place earlier in the week.
"The development of the Trafford Park line is excellent news for Greater Manchester, and I'm delighted to see it progressing with the start of tram testing.
"When the line opens next year, it will provide a major boost to regional regeneration and economic growth by improving access to the large amount of retail, leisure, business and employment opportunities that exist in Trafford Park.
"It will also help towards reducing congestion and tackling air quality as we give people another, more environmentally-friendly alternative to the car."
Construction on the largely segregated Trafford Park Line began in January 2017. The first piece of track was then laid in February 2018.
"Last week we poured the final bit of concrete, all but marking the end of construction, and this week we've undertaken the first tram testing.
"This is another significant moment on our journey towards completion, as our focus now turns to the safety critical signalling systems and driver training.
"We've still got quite some way to go, but things are progressing very well and people can expect to start seeing a few more trams running up and down the line over the coming weeks and months ahead of the line opening in the first half of 2020.
"None of this would be possible without the work of our partners, including contractor M-Pact Thales (MPT) and the operator KeolisAmey Metrolink, and my thanks go to all those involved."
Trafford Park Line Rolling Stock
The Trafford Park Line will operate Bombardier FLEXITY M5000 trams, just like the rest of the Metrolink network. Transport for Greater Manchester signed a contract for 27 units in 2018. It did so with the help of the UK government's Transforming Cities Fund. The trams have a capacity of 206 people and a top speed of 50km/h.
Also read: