São Paulo's Metro Line 4 has begun full operation using Siemens Mobility's digital communications-based train control (CBTC) signalling.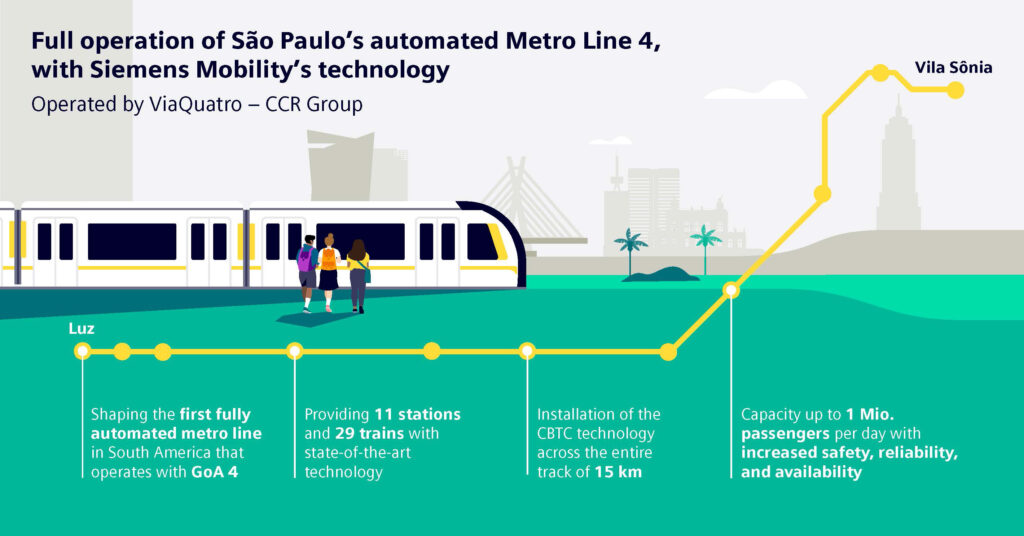 The solution has been installed across the network's 15 kilometres of track, 11 stations and 29 trains, making Metro Line 4 the first fully automated metro line in South America that can operate with GoA 4.
This is the highest grade of automation that allows trains to be automatically controlled and operated.
The digitalised system will allow ViaQuatro, part of CCR Mobilidade, to safely increase the number of trains on the line and improve train frequency. This in turn will enable the operator to increase capacity.
In addition, operational efficiency will be improved thanks to continuous updates on the system's status, resulting in more reliable services and fewer delays.
"We're proud to have partnered with ViaQuatro on this landmark project.
"São Paulo's Line 4 has been the most innovative metro line in Latin America and our state-of-the-art digitalised technology can provide up to one million passengers per day with an enhanced passenger experience that features increased safety, reliability, and availability."
Siemens Mobility has worked closely with CCR Mobilidade on many projects over the years.
Recently, this has included the signalling and electrification of Metro Lines 8 and 9 in São Paulo, as well as advanced technology for two surface Metro Lines (GoA2) in Salvador, Bahia.