Brazil: Salvador Metro Line 2 Opens
Less than two years after the work order that authorised the beginning of the works, Line 2 of the Metro System of Salvador and Lauro de Freitas received its first passengers. On Monday 5th December, the stations Acceso Norte 2 Detran and Rodoviária, a stretch that has 2.2 km and can be covered in just over three minutes, started operations.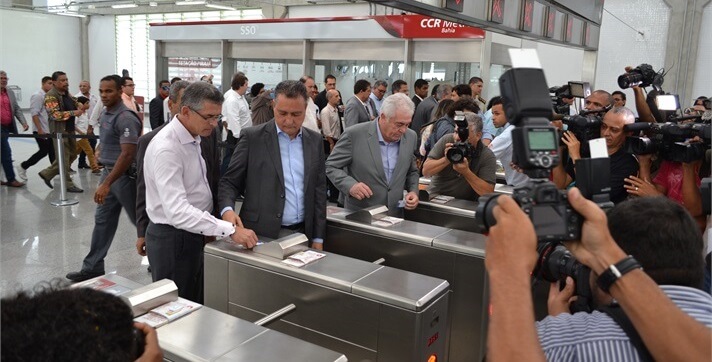 Line 2 has the same hours of operation as Line 1, from 5:00 am to midnight, including holidays and weekends, with a charge of R $ 3.30.
Governor Rui Costa said:
"2016 is a historic milestone for Salvador's mobility, the year in which we completed line 1 and are starting the operation of line 2. This work represents a great effort being made by the government to provide Salvador with one of the most modern and efficient Mass transit systems"
It is now possible to arrive by subway from Lapa to Iguatemi in 14 minutes. The trip between Piraja and Rodoviária takes approximately 13 minutes.
CEO of CCR Metrô Bahia, Luis Valença, added:
"When we arrived in 2013, there were 6 km of subway and four stations, unused. Since then, we have revitalised the trains and systems, set to operate in 2014, doubled the extension of Line 1, started commercial operations in early 2016 and arrived now in a pulsating region of Salvador, Iguatemi, with its large commercial and business ventures and intense traffic. In addition, we already have more than 80% of the works of the stations completed in Line 2, in less than two years. Our focus is on excellence in the execution of the project with the objective of providing a quality transportation service throughout the concession period"
The remainder of the works to line 2, including the Airport Station, are expected to complete next year.
For more information, please visit CCR Metrô Bahia.