Flexicon Launches New Cable Protection for Hazardous Areas Guide
Responding to the demand to safely protect power and data cabling in today's interconnected world, Flexicon has launched its most extensive flexible conduit Products and Solutions Guide for Hazardous Areas.
The 46-page Cable Protection for Hazardous Areas guide highlights many of the potential hazards faced by cabling, using simple icons. It is focussed on product solutions for hazardous areas and features Flexicon's range of Flameproof Barrier Glands with the latest IECEx, ATEX and CU-TR certification. It also features conduits for Hygienic applications and Flexicon's new Stainless Steel annular corrugated conduit systems, FSS and FSSBRD.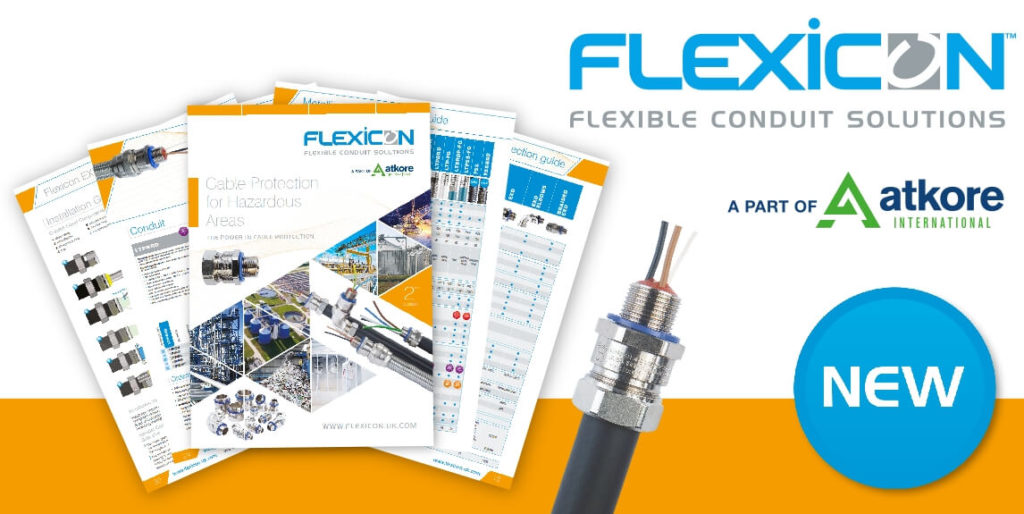 Tim Creedon, Sales & Marketing Director for Flexicon, said:
Failure to protect power and or data cabling within Hazardous Areas with the potential risk of explosion can be catastrophic for safety and operational efficiency.

It has never been more important to get cable protection specification right to ensure on-going operation throughout a system's life and protect people, property and processes. Hazardous Areas, by their nature, present many risks and depending on the application the hazards faced can vary enormously. The risk of explosion due to operating environments, flammable liquids, gases or dust, hazards such as ingress of water, corrosion, exposure to chemicals, impact, crushing, fire, UV light, vandalism can all impact safety and operational efficiency.

Our new specification guide features 16 different cable protection solutions for use in Hazardous Areas. The guide makes it easy to correctly specify a system of both conduit and gland or fitting to match the nature and magnitude of the hazards faced. It is important to realise that different applications can be exposed to different hazards, so there is no one size fits all solution.
Cable Protection for Hazardous Areas
As a UK Manufacturer, Flexicon offer over 60 different flexible conduit systems to choose from. The Cable Protection for Hazardous Areas guide is focussed on solutions and systems for use in Hazardous Areas and contains products and systems that have been tested and certified against the relevant Industry standards and approvals. With an easy to use selection table, specifiers and engineers can quickly compare performance properties of the sixteen different conduit systems and different glands and fittings.
Creedon continues:
It is not enough to select the correct flexible conduit; you also have to match it to the right fitting according to the application. It is often the conduit to fitting and fitting to equipment interfaces that are crucial for protection and this guide ensures that you get it right.

Flexicon has continued to develop a number of different specification tools to help get cable protection right over the long term. These range from paper based solutions guides, online catalogues, and interactive online selection tools including an App, through to technical help via phone or onsite. There are also sector dedicated brochures for the Rail Industry and Hygienic Applications.

With more choice for the customer comes an increased opportunity to incorrectly specify, therefore it is paramount that we provide effective tools to aid specification to fully realise the true benefits of flexible conduit for cable protection.
You can view the new 2nd Edition Cable Protection for Hazardous Areas on our website now, or you can request a hard copy by contacting: Flexicon Ltd, Roman Way, Coleshill, Birmingham. B46 1HG. Tel: 01675 466900. Email: [email protected]. Web: www.flexicon.uk.com.
FOR ALL THE LATEST INFORMATION, NEWS, IMAGES, VIDEOS AND DOCUMENTS FROM FLEXICON PLEASE CLICK HERE.