Flexicon Launches Flexible Conduit Fitting for Critical Cable Connections
Flexicon claims to have developed the world's best conduit fitting for rail electrical and data installations that demand continuity of supply for safety critical and other applications.
The patented Flexicon UltraTM fitting combines a number of class leading performance criteria. Its all round teeth provide 360o strength to provide the strongest tensile strength available of up to 70Kg and the highest levels of anti-vibration and shock protection performance tested to EN 61373 Cat 2. The integrated sealing technology delivers an IP rating of 66, 67, 68 and 69.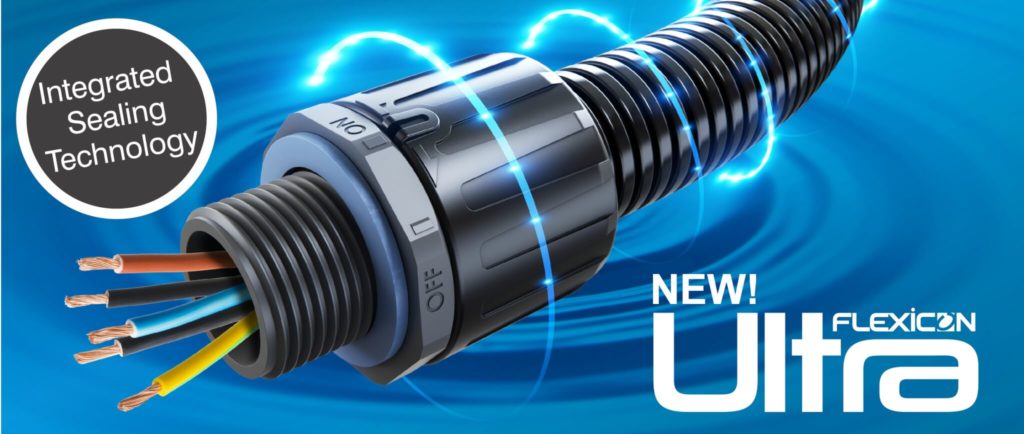 Unusually for such a high performance fitting, Flexicon Ultra has a one-piece construction, so there is no risk of dropping parts on site and it minimises the risk of incorrect assembly. It is easily installed using a simple push and twist connection to the conduit.
Flexicon's Sales and Marketing Director, Tim Creedon, says:
"There are a number of installations in the rail industry where the loss of power or data could have serious safety consequences. At the very least it could lead to severe disruption of services.

"In fact as the Digital Railway Initiative moves towards a more sophisticated data driven environment, with initiatives such as the European Rail Traffic Management Systems, Automatic Train Operation and others, then cable protection and its secure interface with equipment is absolutely vital.

"Combine this with the multiple hazards faced by cabling, which might include immersion due to flooding, dust penetration in tunnels, the risk of cable theft and the on-going possibility of vibration working connections loose, then there is obviously a need for a high performance fitting that, when paired with the correct conduit, protects against all of these risks and more for the lifetime of an installation.

"When specifiers consider the life time costs of a cable protection system, including maintenance and more seriously loss of revenue due to loss of services on track, in rolling stock or in stations, then quite rightly they demand the best performance possible.

"When you look at all of the performance criteria for Flexicon Ultra, there is no other fitting currently available that can match it. We think that it is the first time that such a fit and forget connection has existed from a one-piece construction. It is the world's best conduit fitting."
Flexicon Ultra meets all UK and European rail standards. The new fitting is tamper proof, but can be removed using a screwdriver if required. It is available as a straight, elbow, UNEF or flange with both male and female thread options for use with fine and coarse pitch corrugated nylon conduits.
Original article © Flexicon.