Rail travel have been an essential mode of transportation for centuries, and the development of train wheels and bearings has played a critical role in their evolution.
From the earliest wooden carts to modern high-speed locomotives, wheelset bearings that ensure a smooth spin have undergone numerous changes, adapting to new technologies and demands throughout the years.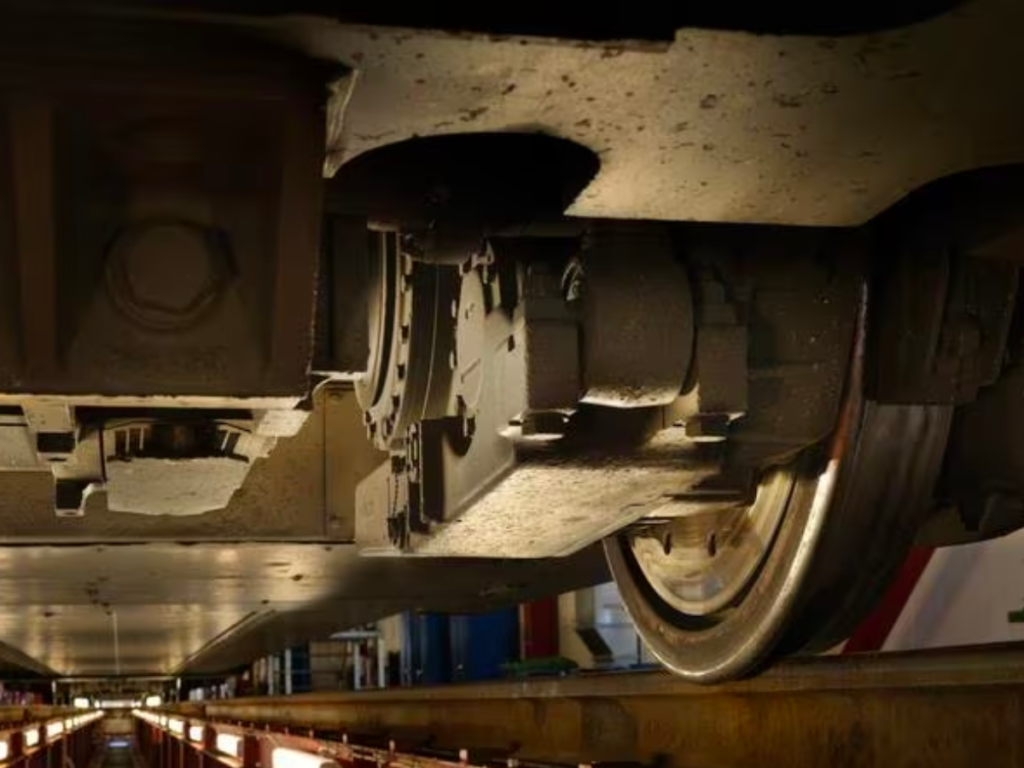 The bearing selection process is crucial to ensure the safe and efficient operation of a train, as it directly affects the ride quality, speed, and maintenance requirements. And knowing the operational parameters of the application is the number one consideration – but understanding the complex challenges that wheelset bearings face is in itself a tough task.
Challenges on the Tracks
Firstly, the chosen bearings must be able to support high loads, while minimizing wear and tear on the rolling surface. On top of that, many passenger trains operate at high speeds, so bearings must be able to withstand high rotational speeds without overheating or failing.
Bearings are exposed to a range of environmental conditions, including extreme temperatures, moisture, and dust, which they must be able to contend with to perform as expected – and now for longer periods of time. This is largely down to the growing trend of waiting to repair or change both the wheel and the bearing at the same time – as to avoid two trips to the coach yard. For that reason, maintenance intervals for bearings are increasingly long as wheel technology improves.
Innovation over Tradition
Technology naturally changes over time and the evolution of wheelset and bogie design has had a significant impact on the bearings used in train applications. Early train designs used simple bushings and plain bearings, but as wheelset and bogie designs became more complex and sophisticated, roller and ball bearings were developed to handle increasingly high loads, speeds, and a range of environmental conditions. Some train designs rely on bearings such as tapered roller bearings and cylindrical roller bearings, which are designed to provide improved ride quality and reduced wear on the wheels and bearings – but are for many not considered the most effective solutions. Overall, the development of wheelset and bogie design has made bearing selection more challenging, but also led to the development of more reliable and advanced bearing solutions for modern train applications.
One of the main limitations of plain bearings is their relatively high friction, which can result in increased wear and heat generation, as well as reduced efficiency. Roller bearings, on the other hand, are designed to reduce friction and improve load capacity, making them a more efficient and reliable option for train wheelsets. Roller bearings use cylindrical or tapered rollers that are arranged in a cage, which reduces friction and allows the bearing to handle higher loads and speeds with less wear and heat generation.
The transition from plain to roller bearings marked a significant milestone in rail engineering. However, one of rail's biggest bearing revolutions was the move from "open" bearings to sealed, pre-lubricated bearings units, such as tapered bearing units and cylindrical roller bearing units.
Keep Rollin'
SKF offers a variety of solutions for today's train wheelset and axle box bearings. One widely recognized solution is the tapered roller bearing unit (TBU). A ready-to-mount component, the TBU is noted for its ability to handle high axial loads, such as when passing a curve. Furthermore, it offers bogie and vehicle suppliers and railway operators the advantage of a sealed and pre-lubricated unit.
TBU design also offers many options in regard to specific sizes and technical features like grease fill, sealing systems, and more. The designs are even tailored for specific vehicle types. These include high-speed and very high-speed trains, locomotives with speeds up to 120 km/h, as well as for American, Chinese, and Russian freight cars. Certain TBU designs can also be used in mass transit vehicles, like metro cars, light rail vehicles, and tram cars up to the same speeds.
Cylindrical roller bearings units (CRUs) are another popular option for train wheelset applications – particular in European freight vehicles. They feature high radial load capacity and low friction, making them ideal for high-speed and heavy-load operations. Like tapered roller bearings, cylindrical roller bearings can help to reduce wear and heat generation, as well as improve efficiency and reliability.
SKF has also developed CRUs that reach maintenance intervals of up to 1.7 million km – meaning reduced instances of service interruption and prolonged productivity for fleet owners.
Following the transition to bearing units, the next big revolution was a move away from oil lubrication to grease lubrication.
Another vital component for train wheelsets, axle boxes house the bearing itself, a sealing system, lubrication, and in some cases, a sensor.  Axle boxes from SKF are generally delivered as customized solution packages for railway vehicle manufacturers and operators based on individual specifications.
In conclusion, the advantages of utilizing bearing units over "open" bearings in train wheel sets are manifold, meaning they could become a given – rather than a choice. With improved reliability, reduced maintenance costs, and increased safety and longevity, bearing units have emerged as the optimal solution for modern railway vehicles both technically and economically. By opting for a CBU or TBU that can be periodically remanufactured by experts, railway operators can achieve optimal performance while ensuring their vehicles operate smoothly and efficiently. Now and in years to come.
This article was originally published by SKF.