SKF Wins "Best Supplier of the Year" Award from Traktionssysteme Austria
SKF has received the "Best Supplier of the Year" award from Traktionssysteme Austria (TSA) in recognition of its contribution to the success of the traction drives firm. Taking the honour for the first time, SKF secured top scores in all four of TSA's evaluation criteria – quality, logistics, price and other, which includes general customer service, problem solving abilities and environmental responsibility.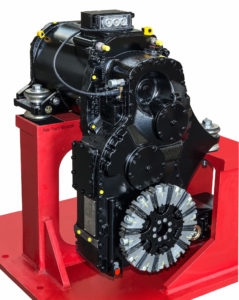 Hybrid and Electrically Insulated Bearings
SKF has been working with TSA to provide a complete range of superior quality standard, hybrid and electrically insulated bearings – most of which are manufactured at its Steyr plant – for traction motors and gearboxes in passenger rail vehicles and trams.
This partnership has enabled TSA to become the first company of its kind to use hybrid bearings to eliminate the issues, such as premature wear and failure, typically associated with the electrical currents in railway drive applications.
Werner Neuhuber, Account Manager for Industrial Sales Austria at SKF, said:
"We are honoured to receive this award and are thrilled to see that our efforts to provide an outstanding service throughout, from application design and specification support to the successful and rapid delivery of exceptional products, are helping TSA to grow its business. In particular, we are pleased to have been instrumental from the very start of TSA's pioneering work in adopting the use of hybrid bearings to overcome the problems caused by electricity in railway applications and are proud to have helped the firm lead where others are now following."
Johannes Fischer, Head of Procurement at TSA Traction Systems, said:
"SKF has been involved in our key projects from conception to fulfilment, and has provided exceptional technical expertise and high performance bearings solutions worthy of the Best Supplier of the Year title. The company has worked with us to offer excellent development assistance, customer support, cost effective products and fast turnaround times and we will continue to build on this relationship to consistently deliver a top rate service to our customers throughout the rail industry."
Original article © SKF.
FOR ALL THE LATEST INFORMATION, NEWS, IMAGES, VIDEOS AND DOCUMENTS FROM SKF, PLEASE CLICK HERE.