Duos Railcar Inspection Portal Technology Now Operational in 13 Locations across the North American Rail Network
Duos Technologies Group, Inc. ("Duos" or the "Company") (Nasdaq: DUOT), through its operating subsidiary Duos Technologies, Inc., a provider of machine vision and artificial intelligence that analyzes fast moving vehicles, today announced that the Company now has 13 Railcar Inspection Portals ("rip®" or "RIP") in operation with four major railroads.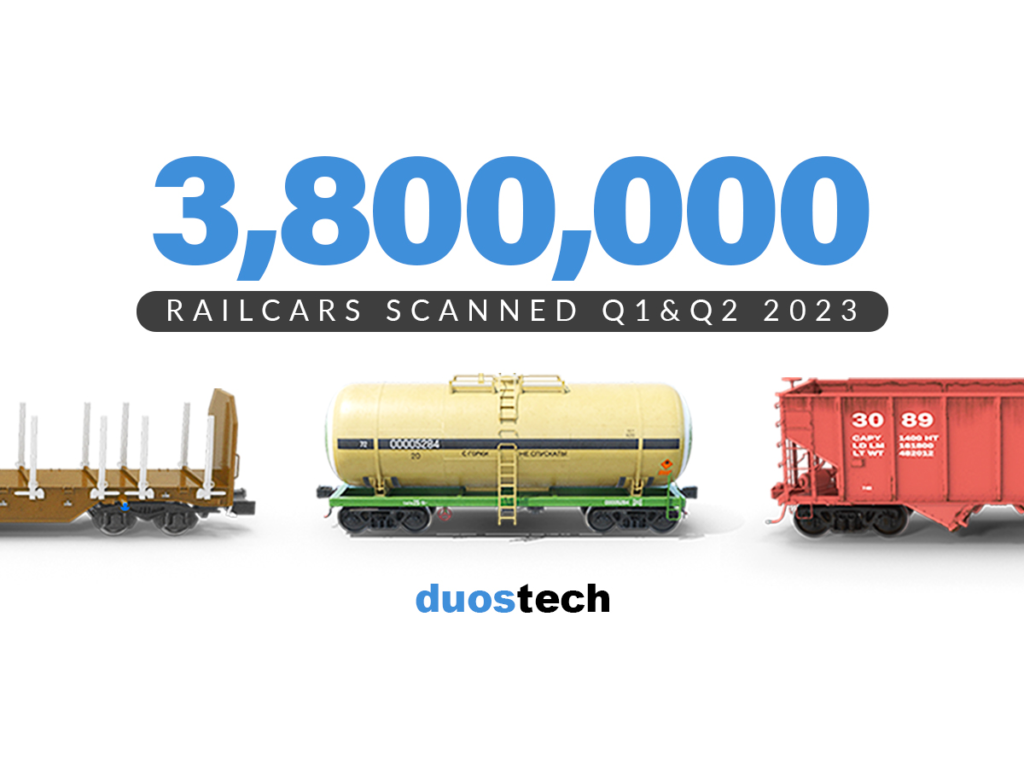 The Company also recently reported that its RIP technology across those same 13 portals has performed over 3.8 million comprehensive railcar scans through the first half of 2023. This metric encompasses all railcars scanned at locations across the U.S., Canada, and Mexico.
Duos also has two additional highly advanced RIPs being manufactured, which will be deployed on the high-speed rail network in the Northeast Corridor in the coming months. These advanced RIPs will deploy new machine vision technologies capable of capturing safety data at speeds of up to 125 miles per hour. Duos expects to deploy new wheel and brake inspection technologies with this installation. The Company also recently disclosed that it intends to build and deploy additional systems around the North American rail network which can be accessed via subscription, lowering the barriers to entry for acquiring a RIP system for railroads and railcar owners alike.
Duos' RIP technology is rapidly becoming the industry standard for detecting and identifying mechanical issues on railcars as operators aim to meet the increasing need for compliance and safety solutions that are efficient, reliable, and cost effective. The Company's major railroad clients have multiple systems with artificial intelligence ("AI") actively running on their rail networks. The Company recently released information surrounding its catalog of more than 40 AI detections and some the success stories on avoiding derailment risk with its end-of-car-cushion detection in the field.
"Through our ongoing rail industry involvement, we have been active in identifying the key metrics to support an increased safety focus including our consultation on the proposed Rail Safety Act of 2023.
"Related to that engagement, we have continued to develop our technologies to further support those efforts including significant AI development whereby we already have more than 40 highly effective models, operating with an often greater than 95% accuracy. We are also working with a Class 1 railroad who has applied for waivers to the current inspection methods in order to use the Duos RIP systems in their inspection plans. As we continue to expand our footprint and capabilities, we expect to drive greater interest from prospective customers as well as further improve our performance by leveraging an ever-growing dataset.
"Our mission is to make this technology available to as many railroad operators, car owners and other related parties through our subscription offerings. This will allow a much lower pricing point for users to gain access to the data without the necessity to invest $10's of millions of dollars to build and support their own network."
To stay up to date on the Company's most recent developments or to learn more about the Duos story and its revolutionary technology platforms, be sure to follow here or sign up for email alerts here. For more information please contact [email protected] or visit the Company's website and social media channels: Website, LinkedIn, Twitter.
This article was originally published by Duos Technologies Ltd.