Installing Monitoring Systems for Docklands Light Railway (DLR) Weather Stations
Client: Keolis Amey (Docklands)
The automatic trains on the Docklands Light Railway (DLR) in London are at risk of slip-slide in wet weather, which can result in a Non-Communicating Train status (NCT), preventing the train from operating. To rectify this, the train operator has to manually drive the train a short distance at 20kph in order to re-enter it into automatic mode. This has a knock-on effect, resulting in significant service delays across the network.
Previously, to prevent an NTC from occurring, speed restrictions were imposed by the Operator whenever wet weather is predicted by the Met Office. Although delays were less serious than the delays associated with an NCT, weather predictions were large windows of time and were not always accurate, resulting in trains running slower for greater periods of time than necessary.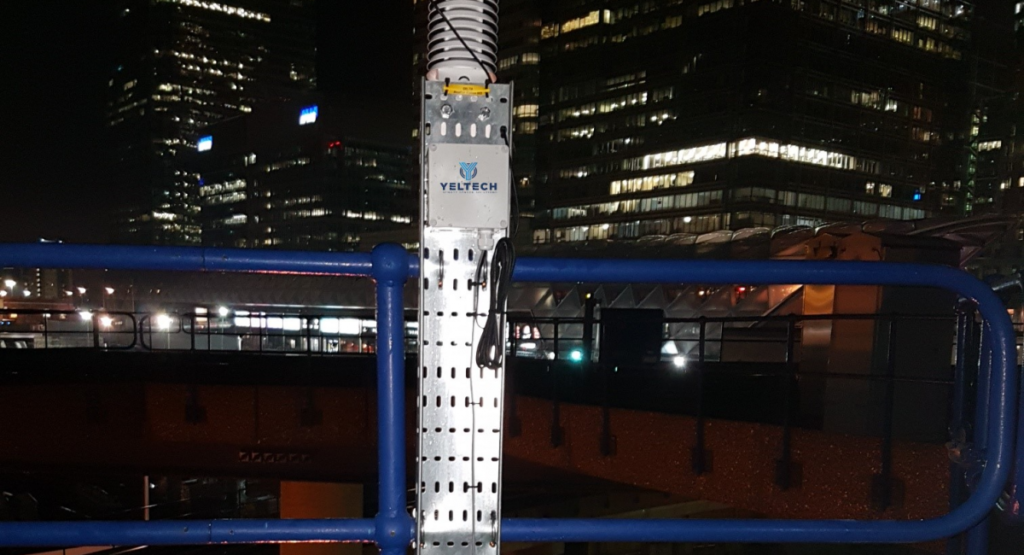 Solution
In 2017, Yeltech installed a remote monitoring system of 7 weather stations coupled with rail temperature monitors across the network. The devices detect when the track is actually wet (rather than predicted to be wet) and when tracks were dry again, ensuring speed restrictions were only applied when necessary.
The system utilises an ultra-low power battery operated data logger to provide real time data to the Operator, via an online server or mobile phone App. Sigfox disruptive technology provided the benefit of reduced transmission costs. The low power requirements of the Sigfox device gives longer battery field life and reduced operating costs.
The webserver provides a dashboard showing clear real-time visualisation of the weather stations and current status, as well reports of data history and alarms.
"...this has reduced the overall amount of time when trains are required to run at reduced speed and has contributed to a 35% reduction in journey time losses since the system was introduced."
This article was originally published by Yeltech Ltd.