Installing a Remote Monitoring System for Network Rail at Chapel Hill
Yeltech was approached by Network Rail to install a remote monitoring system to one of the brick arches that support the track at Chapel Hill, near Baskingstoke to investigate the following concerns:
Extensive cracking to the rear wall
Excessive deflection of the roof from train loading
Due to difficulties in measuring these defects manually, particularly movements under train loading, a remote sensing solution was required to understand whether the structure was deteriorating and to determine the need / extent of any repairs or strengthening works. An early warning system was also required, to notify Network Rail should deflections exceed certain threshold limits, so that safety risks could be managed.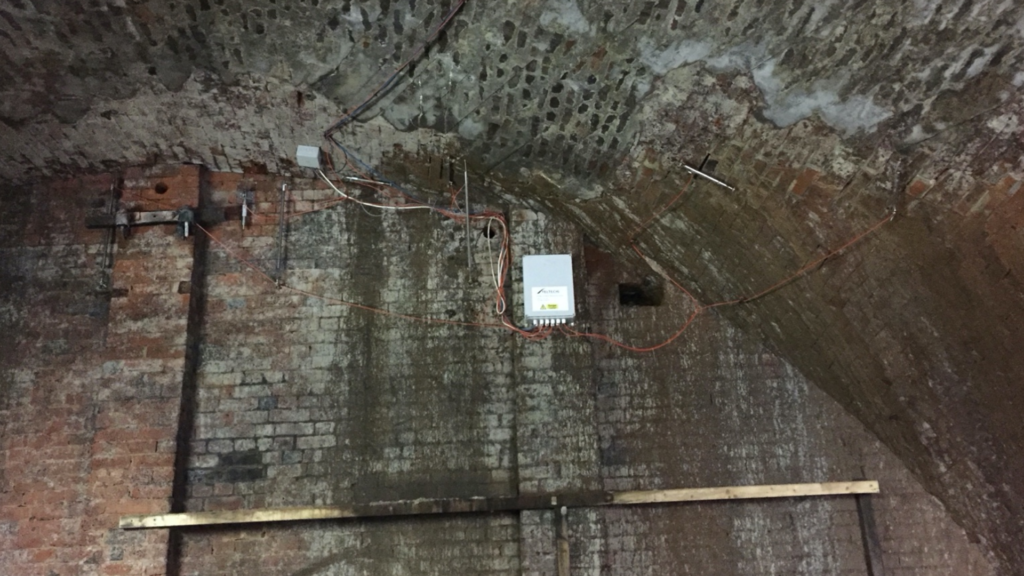 Solution
Crack Monitoring
Four displacement sensors were installed at selected points along the crack, to monitor changes (increases and decreases) to the crack width. Additionally, an in-place-inclinometer (I-P-I) was installed to measure the overall movement (tilt) of the wall.
Yeltech's intelligent control system was programmed to take measurements every six hours and to transmit readings twice a day.
Roof Deflection Measurement
Yeltech's installed its intelligent monitoring system, utilising an accelerometer to monitor extremely small vibration movements in response to trains passing over the arch, programmed to take measurements at a rate of 50Hz (50 times a second). To limit the amount of data, an automatic trigger was incorporated, waking the system up to take measurements as a train approaches and returning it to sleep mode once the train has passed over. The sensor could be re-calibrated post-installation, to improve accuracy once deflections are better understood.
For both systems, an alarm with pre-set threshold limits was installed to provide an early warning system. Measurement / transmission frequencies and alarm thresholds could be adjusted remotely post installation if required.
Measurement data could be accessed remotely on Yetech's webserver, or on mobile devices using Yeltech's remote access phone app.
Conclusion
Yeltech successfully designed and implemented the above solution within 13 working days of initial enquiry. The system allowed Network Rail to safely manage the structure, whilst keeping it in service, avoiding the need for speed restrictions and the cost of unnecessary strengthening works.
This article was originally published by Yeltech Ltd.