Tension Monitoring with Yeltech's New OLE Balance Weight Monitoring Device (BWMD)
Overhead Line Equipment – or OLE – is the name railway engineers give to the assembly of masts, gantries and wires found along electrified railways. All this steel and cable has only one purpose – to supply power to make electric trains move.
The catenary and contact wires are installed in lengths that are tensioned at either end in order to keep the contact wire still, so that a good contact with the pantograph is maintained. Both wires are tensioned with the tensions either being constant (auto tension) or varying with temperature (fixed termination).
Fixed termination lines will expand during hot weather, reducing the tension in sections of the OLE environment. This can lead to a risk of passing trains damaging the contact wire, eventually leading to dewirements and significant delays to services on the network.
Solution – OLE Balance Weight Monitoring Device (BWMD)
The conventional tensioning mechanism consists of a braced mast and iron weights. These weights move up and down according to the ambient temperature which affect the tensioning and can cause service disruptions.
Our solution entails monitoring tension with our new OLE Balance Weight Monitoring Device. Yeltech has developed a very light, compact, and easy to install device which monitors the movement of the weights (BWMD). Our device features a charge-less battery for up to 3 years continuous operation (depending on the frequency of transmission).
The BWMD monitors the movement of the weight and the ambient temperature continuously; it logs all data into our online server platform – WaT Cloud Telemetry. This is where all temperature and movement data will be stored, and recipients are set-up to receive alarm triggers when the device exceeds pre-determined movement.
How Our BWMD Works
The BWMD is programmed to transmit the data on specific instructions with an internal threshold of a given movement (i.e. +/-20cm). For example, the BWMD wakes up every 30 minutes to read and record the values of temperature and the measurements of A & B (see diagram).
The "normal" transmission rate of the BWMD wakes up and sees the weights have not moved more than 20cm, it will store the data and then send the bulk of readings/data every 12 hours.
The "Fast Transmission" rate of the BWMD is when the movement exceeds the threshold of 20cm (this threshold can be set by you/your team). When the BWMD wakes up, if the weights have moved more than 20cm, then it will keep transmitting data to our server every 30 or 60 minutes, maintaining the operation in Fast Transmission Mode until the distance is below the 20cm set.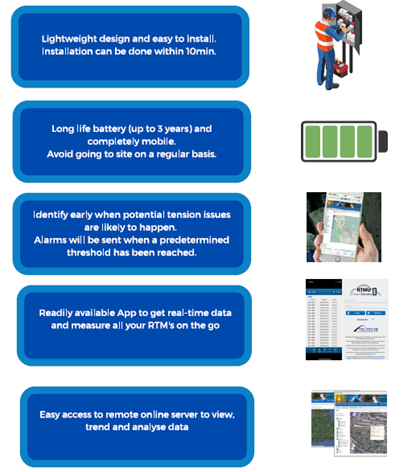 Key Features and Benefits
Lightweight design and easy to install. Installation can be done within 10 minutes.
Long life battery (up to 3 years) and completely mobile. Avoid going to site on a regular basis.
Identify early when potential tension issues are likely to happen. Alarms will be sent when a predetermined threshold has been reached.
Readily available App to get real-time data and measure all your devices on the go.
Easy access to remote online server to view, trend and analyse data.
Conclusion
Yeltech has successfully developed a solution for Tension Monitoring by developing our new OLE Balance Weight Monitoring Device (BWMD) which can highly help multiple industries face their challenges.