UK: Nova 1 Train Has Successful Test Run for TransPennine Express
Hitachi Rail Europe has completed the initial testing of the first unit in the Nova 1 fleet which the Japanese company has produced for TransPennine Express (TPE). The train was successfully operated between Doncaster and Darlington, but it will also be tested on all other sections of the TPE line in the north of England and Scotland.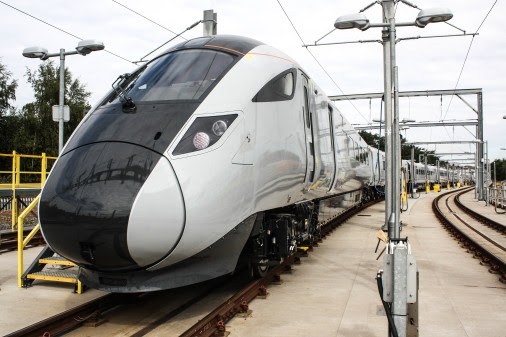 If all the tests are successful 19 bi-mode Class 802 Nova 1 trains will enter service for TPE in 2019. The purchase of the fleet, which features Hitachi's pioneering bullet-train technology, was financed by Angel Trains.
The new fleet will provide 161 more seats per train than the current models used by TPE. The trains will also feature extra legroom and additional luggage space. Free Wi-Fi and a complimentary on-board entertainment system, Exstream, will enable passengers to stream movies and TV shows during their journey.
Barry White, Chief Executive of Transport for the North, said:
"We are delighted to welcome these exciting new trains into the North, among the first of many new trains that will change the lives of rail users throughout the region, as we begin a period of major and sustained investment in our transport infrastructure. The extra capacity these trains offer is much needed and the fact they are future-proofed with the latest technologies is further evidence of long-term thinking for a brighter future."
The diesel-electric trains, which use Rolls-Royce MTU engines, can operate in either five or ten-carriage formations at up to 140mph in electric mode or 125 mph when powered by diesel. The MTU engines will reduce emissions produced in diesel mode by up to 90%. The train which is currently being tested is the five-carriage 802201 unit.
Berry Sas, Projects Director for Hitachi Rail Europe, said:
"Our modern intercity trains will be calling at all stations along the route ahead of carrying passengers next year. Passengers will instantly recognise our high-tech trains, sporting an aerodynamic design first pioneered in Japan."
The route which the trains will operate on is scheduled to become the first digitally-controlled intercity line in the UK and accordingly all of the trains are fitted with what Hitachi describes as "the latest in-cab digital signalling technology".