First Class 802 Hitachi Bi-Mode Train for TransPennine Express Arrives in UK
Hitachi has delivered the first test train for TransPennine Express's Nova 1 fleet to the UK. The train arrived in Southampton on 11 June 2018 and will continue on its journey to the North of England for testing later in the summer. An additional 19 of the Class 802 Hitachi intercity five-carriage trains will enter service for the franchise in summer 2019.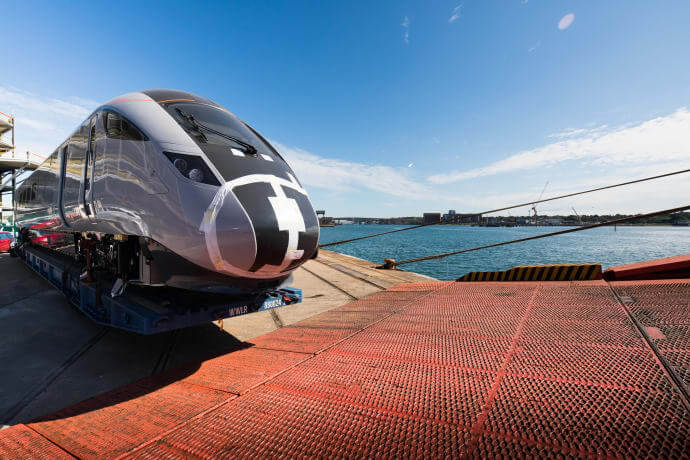 Nova 1 is one of three new fleets of trains commissioned by First Group for TransPennine Express and will operate between Liverpool, Manchester, Newcastle and Edinburgh. The manufacture of the trains was financed by Angel Trains, a specialist train-leasing company in the UK.
TPE's electric Nova 2 (Manchester Airport, Liverpool, Glasgow, Edinburgh) and diesel-powered Nova 3 (Liverpool, Manchester, Leeds, York, Scarborough, Middlesborough) fleets, arriving in early 2019 and autumn 2018 respectively, will be maintained by Alstom.
Class 802 Hitachi Features
In comparison with previous models used by the company this fleet will provide 161 additional seats per train on the franchise's lines in the North of England and Scotland.
The carriages will also provide additional legroom and luggage space for passengers.
Free Wi-Fi will be available in standard and first class carriages, with the option to stream movies from Exstream, a complimentary on-board entertainment system.
Each train will have 5 toilets of which 4 will be standard toilets and 1 will be a universal access toilet.
There will be storage for up to 4 bikes.
There will be a power socket at every seat.
Berry Sas, Projects Director for Hitachi Rail Europe, said:
"Today is another important milestone as we deliver pioneering new trains for millions of passengers in the North and Scotland. We will begin our rigorous test programme in the coming weeks, which I'm sure will excite passengers and enthusiasts along the route."
All 19 trains are bi-mode, which fits TransPennine Express's ambitions to improve its sustainability by 2020. The emissions of the trains, which use MTU engines by Rolls-Royce, are 90% lower than other comparable models. The top speed of the train varies depending on the mode which it operates in: 140 mph on electricity or 125 mph by diesel.
The trains were manufactured in Japan, but more than 30 British firms provided key components for the trains, including Lucchini Unipart Rail (LUR), which built the wheels in Manchester. Hitachi has also built its own depot in Doncaster, supporting 250 employees and 4 apprentices, which will be responsible for the maintenance of the trains.