Revealing the latest solutions to guarantee power for our digital world, Socomec will be showcasing its most recent developments at Data Centre World 2022, London ExCel 2nd – 3rd March 2022.
Integrated power specialist, Socomec, is introducing a new wave of innovation that ensures power availability and energy performance, on show at Data Centre World, London, 2nd – 3rd March 2022.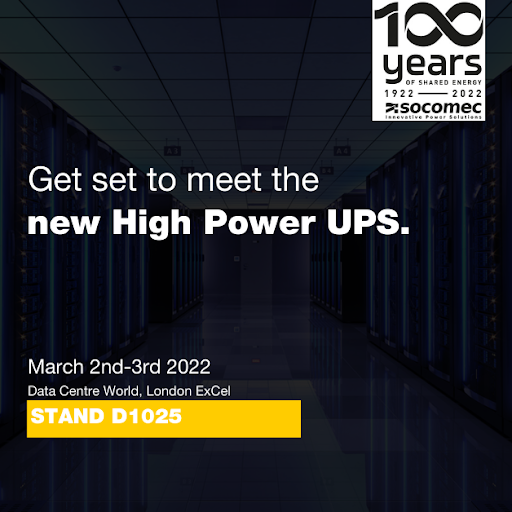 Today's critical infrastructures need to accommodate rapid deployment requirements and system upgrades, while maintaining maximum availability.  Furthermore, rapidly rising energy costs and a premium on floor space mean that every facility is focused on efficiency and usage – and reducing operating expenditure.
Delphys XL 1200 kW: Socomec's New High Power UPS
Achieving very high efficiencies is vital when it comes to making a significant reduction in the operational costs of a data centre. Socomec's Delphys XL combines several-advanced working mode optimising efficiencies without sacrificing power quality.
Resiliency That's Rightsized: Saving Floor Space and Eliminating Single Points of Failure
Delphys XL is a highly compact and efficient UPS designed to secure the most critical applications, offering inherently superior protection and allowing by design, fast & safe maintenance operation.
Based on Socomec's high power XL platform – a power architecture with field-proven reliability – and leveraging the strengths and uniqueness of the XL architecture, the Delphys XL provides outstanding resiliency by eliminating traditional monolithic UPS single points of failure.
Design for Serviceability
Based on our modular expertise, Delphys XL has been engineered with the ease of serviceability and the security of maintenance in mind. Supporting low MTTR through an innovative and unique service concept.
The Power of Managing Consumption and Preventing Outages
With increasing data centre complexity and rising demand comes an increased risk of downtime – and its associated costs.
Outages are common and costly – but that they can be anticipated and avoided. Of those who have suffered an outage, The Uptime Institute reports that 80% believe their biggest or most recent outage was actually "preventable". Power issues are the single biggest cause of outage making it essential to deploy solutions that guarantee maximum power availability.
By implementing power metering and monitoring systems, electrical parameters and consumption can now be managed up to equipment level, identifying potential power issues and tangible cost savings – resulting in lower billing and delivering straight to the bottom line from day one.
Elevating Power Monitoring to a New Level: Infinite Scalability, Unique Versatility, Unrivalled Intelligence
Socomec's multi-circuit power monitoring system for AC and DC electrical installations – DIRIS Digiware – is a hub of technological innovations that is bringing a previously unseen degree of flexibility to installations, making connection and configuration easier than ever before.
Delivering unrivalled performance in terms of accuracy and functionality, all whilst being tailored to the system architecture, DIRIS Digiware is proven to be the most effective solution for monitoring the performance of an electrical installation.
Residual current monitoring is also now available within the DIRIS Digiware modular power monitoring system which means that insulation faults can be detected, without tripping the installation.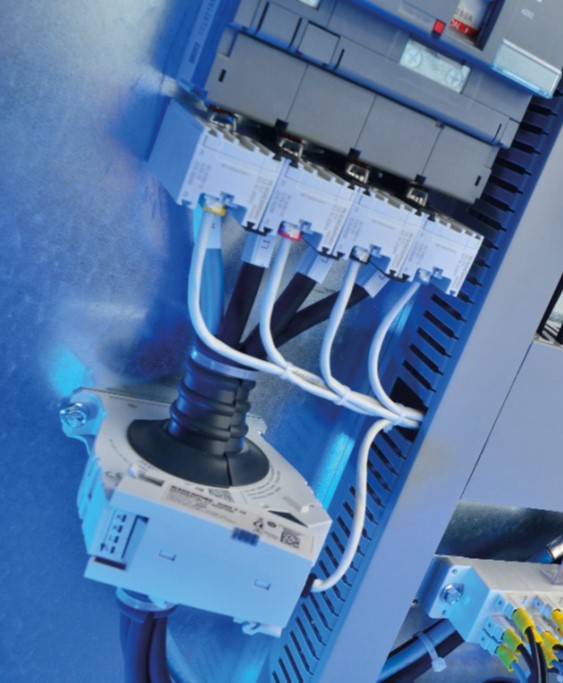 "Point testing for insulation faults is often required within installation standards but the same standards allow correctly functioning monitoring to replace testing - saving money, time and reducing the risk of accidents. Furthermore, permanent monitoring helps to anticipate problems across the electrical installation – improving the health of the system as a whole in order to improve both safety and resilience."
For when energy matters most to you and to learn how Socomec could guarantee the performance of your new or existing infrastructure, visit the team at Data Centre World, March 2nd – 3rd, Stand D1025.
This article was originally published by Socomec.