Real-time Remote UPS Management – in the Palm of Your Hand
Integrated power specialist, Socomec, has launched a breakthrough solution that provides a helping hand to those responsible for the management of critical electrical infrastructure.
By integrating smart technology within new or existing electrical architecture, it is now possible to ensure power continuity, reliability and optimised efficiency – all via your smart-phone.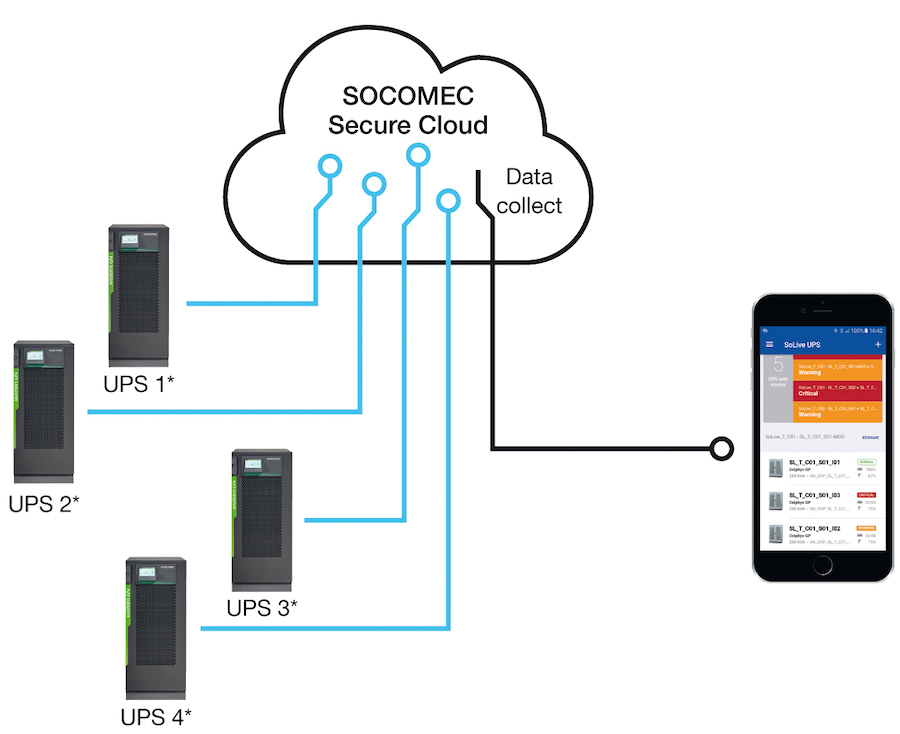 A Smart New Approach
The latest mobile technology is being deployed to simplify the ongoing management of installed UPS systems – and to mitigate against downtime.
Supporting the Facilities Manager in the optimisation of electrical infrastructure, Socomec's most recent development enables the surveillance of an entire UPS system from a smartphone via an innovative mobile app.
Colin Dean, Managing Director Socomec UK explains:
"The effective management of every UPS within an electrical infrastructure is fundamental to ensuring optimised performance. By considering the product from the perspective of our customers as well as end users – and harnessing the power of the latest digital and mobile technology – we have created a disruptive approach to the way that UPS equipment is managed."
Remote, Real-time Analysis – in the Palm of Your Hand
SoLive UPS collects data from all installed UPS systems – across the entire system architecture – and presents information relating to events and thresholds by showing alarms and status on a live dashboard. Listing sites and specific UPS installations – down to model and serial number – the live dashboard provides remote real-time analysis and instant notifications of anomalies.
With detailed status updates for each UPS – including global active power, global load rate, battery capacity and autonomy and UPS temperature – the app ensures that all UPS are working within normal conditions and enables users to react quickly to unexpected events. By collecting installation and operating data, it's possible to flag potential issues early, triggering back up groups, for example, or recommissioning defective equipment.
This analysis has a dual impact – as well as creating a better understanding of the behavior of equipment in real-time, in real end user applications, there is also an improved understanding of the operating environment, enabling predictive maintenance actions to be recommended in a more informed manner. Furthermore, with a direct link to local support centres, assistance from Socomec's global network of engineers is always close at hand should issues arise.
Improving overall system quality
By taking a more vigilant approach to monitoring and management, it is possible to prevent problems occurring as well as to reduce MTTR (Mean Time To Repair) – increasing system availability and reducing the cost of downtime.
To learn how your system could benefit from deploying the latest smart mobile technology, call +44 (0) 1285 86 33 00 or email [email protected]