Innovative Power Protection in A Compact Package
Socomec's Li-Ion Battery provide cost-effective, reliable back-up power with an extended lifetime – and max availability.
For mission critical applications such as Data Centres and IT infrastructure, ensuring a continuous power supply and maximising availability – whilst also reducing the Total Cost of Ownership – is the goal.
Based on the latest battery technology, specialist manufacturer Socomec's most recent innovation in UPS solutions – LI-ION Battery UPS – provides reliable back-up power with a reduced footprint, reduced maintenance of battery components and an extended lifetime of over 15 years.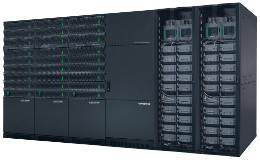 With higher power density and faster recharge than the traditional lead-acid (VRLA) systems, the Socomec Li-Ion Battery UPS enables Facilities Managers to maximise system availability and minimise the consequences of spurious battery failure due to the embedded interactive control system that provides accurate monitoring at individual cell level of the Li-Ion Battery.
Space saving and lighter than lead-acid batteries, it's now possible to manage an area more effectively and flexibly, leaving space free for additional IT equipment or even additional rooms to accommodate future power upgrades, ensuring scalability and redundancy.
Less sensitive to higher temperatures and with an operating range between 0 °C to +40 °C, Li-Ion requires less cooling and therefore reduces associated energy costs.  Delivering optimum performance in all critical operating conditions, this cost-effective and reliable solution offers higher cycling capacity up to 10 times more than VLRA battery UPS.
Complete Interactive Control
For complete control over system availability, the Li-Ion solution includes an interactive control system that checks and manages all cell parameters including temperature, voltage, current and charging status.  The system will dynamically adapt the operation of the UPS depending on the status of the Li-Ion battery.
This interaction guarantees the most reliable performance and improves the system's availability by ensuring proper control of the Li-Ion battery, preventing any irreversible overcharge failure and performing automatic corrective actions in case of any critical conditions that can affect battery performance.
Colin Dean, Managing Director, Socomec comments:
"Power outages lasting even a few seconds can cause damage, production losses and increased costs in applications and processes that are sensitive to short duration downtime.  To ensure optimum availability – as well as a long lifecycle for batteries – it's vital that the power supply is protected by a powerful UPS back-up storage solution with a very rapid recharge, low maintenance and continuous monitoring.

That's why we have developed the LI-Ion UPS which has been engineered specifically to protect applications that need a back-up time from a few seconds to a few minutes – as well as to protect processes that are sensitive to frequent micro-interruptions.  Furthermore, the system suits applications with challenging ambient conditions."
Available for Modulys GP, Delphys GP, this cost-effective solution delivers maximum availability with extreme reliability.
To engineer availability into your next project – and to extend equipment life and reduce TCO – please call Socomec UK on +44 (0)1285 86 33 00