Socomec Awarded the Highest EcoVadis Certification Medal for Its CSR Policy
With a score of 76/100, Socomec has been awarded the "Platinum" medal and maintains its place among the top 1% of the world's 45,000 best rated companies. The rating is done by EcoVadis, the leading collaborative platform for assessing corporate performance in the field of sustainable development.
Following the assessment in 2020, Socomec achieved a score of 76/100 and has been awarded the "Platinum" medal, which marks a significant improvement after the "Gold" medal that the company has been awarded every year since 2016. Socomec therefore continues to be among the top 1% of the 45,000 companies assessed this year by the extra-financial rating agency EcoVadis. The score represents an increase of 3 points compared to 2019 and 28 points since 2014.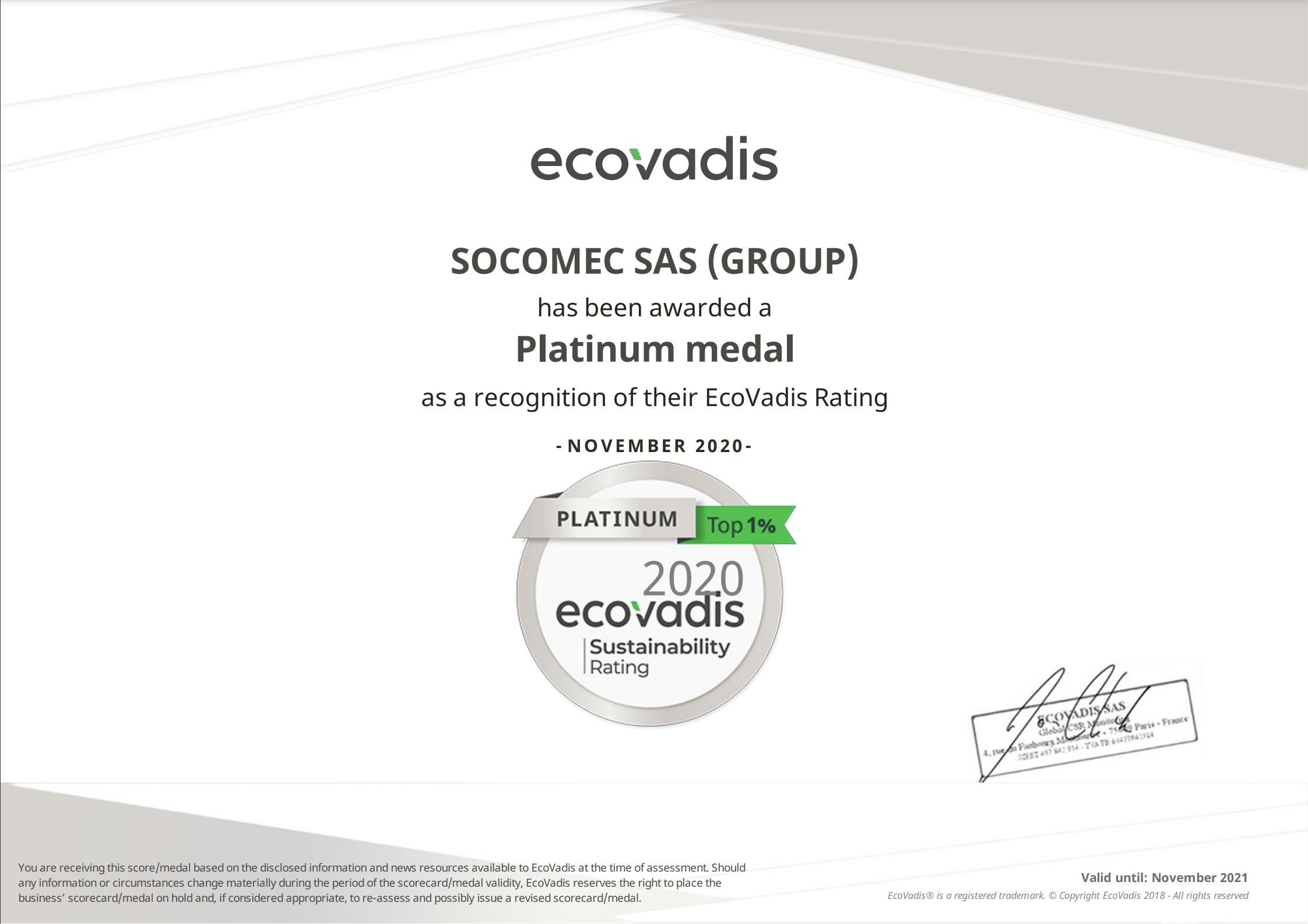 An Enhanced Ethics and Compliance Policy
The increase in Socomec's rating is directly linked to the tightening up of the Group's ethics and compliance policy. In 2020, Socomec drew up a formal Code of Conduct and trained all its employees worldwide in its implementation. In addition, Socomec has set up a whistleblowing system enabling employees and business partners to report any situation contrary to the general interest of the Group (corruption, conflict of interest, moral or sexual harassment, discrimination, etc.). The company has also adopted a steering tool to manage its CSR performance as effectively as possible, demonstrating its desire for continuous progress in this sphere.
A Company Priority
This continuous progress in the EcoVadis rating demonstrates the implementation at Socomec of a policy of continuous improvement and a commitment at all levels to the issue of sustainable development.