British Steel Secures New Catalonia Rail Contract
British Steel has been awarded a new contract to supply high quality rail for track renewals in Catalonia.
The steel manufacturer has secured the agreement – for its R260 rail – with network operator Ferrocarrils de la Generalitat de Catalunya (FGC).
The announcement comes a short time after British Steel unveiled contracts with RFI, Network Rail, Infrabel and Translink.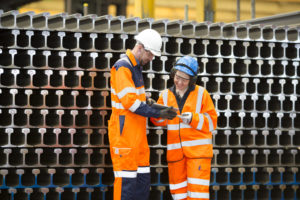 Richard Bell, British Steel Commercial Director Rail, said:
"We're delighted to have secured this new contract with FGC.

"Delivering with a short lead time is a great benefit to our customers and we look forward to supplying FGC with the high quality rail synoymous with the British Steel name."
British Steel has recently announced:
British Steel is an accredited rail supplier for ADIF (Administrador de Infraestructuras Ferroviarias), the Spanish state-owned railway infrastructure manager.
About British Steel
British Steel was formed in June 2016 by Greybull Capital. While we're proud of our heritage, we're just as passionate about building stronger futures for our employees, customers, suppliers and local communities.
Internationally, we want to be a competitive exporter and the right strategic business partner. Nationally we want to be the champion in our chosen markets – recognised as the centre of competence for steelmaking and the partner of choice. And locally, through positive engagement, we want to become a leader of business and community re-development in the areas in which we operate.
Our steel helps people travel, work, eat and socialise every day. It has been, and continues to be, fundamental in creating iconic, awe-inspiring structures around the world. More importantly, it helps keep us safe.
We produce more than 2.8 million tonnes of steel every year. From this, we manufacture more than 1,450 different specifications of steel that is rolled into wire rod, sections, special profiles, rail, bloom and slab. We employ 5,000 people, 400 of whom are in France. Our facilities include:
Scunthorpe integrated steelworks

Teesside Beam Mill, Lackenby

Special Profiles, Skinningrove

Hayange Rail Mill, north east France

Immingham Bulk Terminal (port terminal)

Redcar Bulk Terminal (port terminal)

FN Steel, Netherlands

Rail logistics hub, Lecco, Italy

Engineering business, Workington

National design consultancy

Associated distribution facilities in the UK and Ireland

International sales offices including USA, Singapore, France, Spain and Germany