British Steel Wins Major Network Rail Contract Extension
British Steel has won an extension to its supply contract with Network Rail, the company operating and maintaining Britain's rail infrastructure.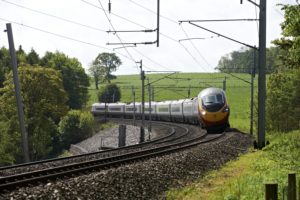 More than half-a-million tonnes (9,000km) of high quality rail will already have been supplied by British Steel when the companies' current five-year contract finishes in March next year.
When that agreement concludes, a two-year extension will begin which will see British Steel supply Network Rail with over 200,000 tonnes (4,000km) of rail.
The contract was being rubber-stamped in Berlin today at InnoTrans, the international trade exhibition for transport technology.
Ron Deelen, British Steel's Chief Marketing Officer, said:
"This is excellent news, not only for British Steel but the millions of people who use the UK's rail network.

"During the course of the last five years we've worked extremely closely with Network Rail, ensuring the on-time delivery of half-a-million tonnes of high quality rails in lengths of up to 216m.

"Together we've helped find solutions to the challenges they face, enabling us to develop and install new products which reduce the need for costly and time-consuming maintenance and replacement works. This allows more traffic with less rail maintenance – major benefits for passengers and freight operators, and provides Network Rail with excellent value for money.

"We enjoy an excellent partnership with Network Rail and over the course of the current contract, and the new one, we look forward to further strengthening that and ensuring Britain's railways remain on the right track."
Among the rails British Steel will be supplying to Network Rail are two long-life rail innovations –  HP335 and Zinoco®.
HP335 (also known as HPRail®) was approved by Network Rail in 2012 after extensive trials and was designed to cut life cycle costs through reduced grinding frequency, reduced wear and extended rail life. It is the premium rail of choice in the UK mainline network and many light rail operators have also adopted HP335 as their high performance rail solution.
Zinoco® is a corrosion protected rail designed to greatly extend rail life in aggressive environments such as level crossings, tunnels and coastal regions. Its success has led to a recent expansion in production facilities with a multi-million-pound investment due to be commissioned shortly.
The rails – which will largely be used for maintenance and renewals – will be supplied during Network Rail's Control Period 6 (CP6), its five-year plan to maintain and improve Britain's railways. CP6 runs between 2019 and 2024 and is designed to make the railway more reliable and cost efficient while increasing capacity and building on its reputation as the safest railway in Europe.
Ron said:
"We're very much ready for the challenges CP6 will bring and pleased to be supporting Network Rail during its next control period. This is another excellent demonstration of how we can work with the national operators to deliver the products and services they require."
British Steel supplies Network Rail with 95% of its rails and they've gone into major projects including the Borders Railway, which became the longest UK railway to be built in a century when it opened in 2015. The development included 30 miles of new railway, the laying of 90,000 sleepers and the construction of seven rail stations.
Over the last four years, British Steel has delivered 98% of rail to Network Rail on time, in full.
Rob Morton, Supply Chain Operations Director, Route Services, Network Rail, said:
"We are proud to extend our historic relationship with British Steel for a further two years. It is pleasing to see two British organisations trading for mutual benefit and for the benefit of the wider British economy.

"This new deal is an example of how we continually review our sourcing options to provide the safest network and maximise value for money for the British taxpayer.

"We look forward to working together closely with British Steel over the coming years, continuing our innovative and constructive partnership."
Today's announcement comes a short time after Transport for London (TfL) also activated a two-year contract extension with British Steel for the supply of rails to London Underground.
Since being awarded a Framework Agreement in 2012, British Steel has supplied over 42,000 tonnes of rail for use on the Tube's infrastructure – over 85% of TfL's annual rail requirements.
For more information, you can view our company film or our Zinoco film.