Infrabel Awards British Steel Four-Year Supply Contract
British Steel has secured a major new contract with Infrabel, Belgium's national railway operator.
The four-year agreement is for the maintenance and renewal of the Belgian rail network and will see British Steel supply between 35,000 and 40,000 tonnes of rail a year – more than 3,000km of rail over the duration of the contract.
Deliveries are scheduled to start in January 2019.
Richard Bell, British Steel's Commercial Director Rail, said:
"We're delighted to have been awarded this contract and look forward to working in partnership with Infrabel over the next four years.

"We operate in a highly competitive market so it's extremely pleasing that, after a short break, Infrabel have again named us as their main supplier. It's a great endorsement of our products and services and securing another contract with a national network operator is a source of enormous pride."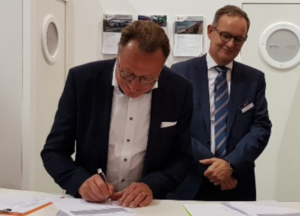 The steel for the rails will be manufactured at British Steel's headquarters in Scunthorpe, England, before being transported to the company's state-of-the art rail rolling facility in Hayange, France.
From Hayange, a shuttle service will deliver train loads of the rail direct to Infrabel's welding plants in varying lengths including 100 metres.
The main grade of rail will be British Steel's R260 although there'll also be smaller volumes of its Stress-Free heat-treated and switch rails.
Today's announcement comes a short time after British Steel announced it had secured a two-year contract extension with Network Rail, the company operating and maintaining the UK's rail infrastructure.
The agreement will see it supply Network Rail with over 200,000 tonnes (4,000km) of rail.
Richard: We've an excellent tradition of working with national operators such as Infrabel, Network Rail and SNCF who are all benefiting from our products and services.

By working in partnership with our customers we can offer superb value for money by reducing the need for costly and time-consuming maintenance and replacement works. The less disruption to a network, the greater the flow of traffic – major benefits felt by passengers and freight operators.
Infrabel: This contract, awarded by Infrabel in accordance with the public procurement legislation, is a strategic component of our Infrastructure, especially the rail.

The quality of the product, the security of the supply chain and the reliability of the partners are crucial during the execution of the contract.

Infrabel is therefore looking forward to the good cooperation with British Steel during the next four years.