Laurent Garnier joined Texelis in 2009 as Purchasing Manager. His extensive industry experience has significantly contributed to Texelis's transition to an integrated company specialising in axles and mobility systems.
In this article, Laurent, who was appointed Managing Director of Transportation Business Unit in 2019, gives his insights on the company's future outlook, its services and expertise.
Adjusting to Uncertain Times
The Covid-19 outbreak had a major impact on the rail industry. As a result of the global pandemic, there has been a virtual shut down of international travel and many sectors of the economy where Texelis does major business. The entire industry of rail production and transport has had to adapt to these changing conditions. Clients have become less willing to purchase new products and instead have shifted their focus to repurposing and improving much of their existing equipment.
"A lot of our customers are facing a situation where companies' annual revenues are lower than they were 2 years ago due to declining production, which is forcing them to focus more on operating costs. Many customers are now placing increasing emphasis on extending the lifetime of their existing trains."
Texelis has been quick to adapt to these changing market forces and has been at the forefront of the industry in adjusting their business model and sales strategy to meet the new demands of its customers.
"Texelis has seized the opportunity to offer full- service delivery of mobility that are designed to maximize product lifespan, support customers' operational readiness, and enhance the customer experience with innovative, custom solutions. We've actually achieved considerable success."
To meet the new needs of its clients, Texelis has tasked its most skilled engineers and high-tech facilities with the maintenance, upgrade and repair of existing mobility systems including bogies, gearboxes and wheelsets.
One of the major places where this is taking place is at Texelis's operating site in Limoges. The Limoges site has a high-tech support facility for the refurbishment and technical upgrade of various passenger mobility systems. All of the equipment at this site and other similar sites performs at optimal efficiency, with comprehensive diagnosis of cracks, wear, noise, sealing, etc. Texelis's renovations include repainting, corrosion protection, and fully verified renovated upgraded parts with certified testing devices.
In keeping with its services focus, Texelis's highly skilled and experienced engineering and technical support staff are working ceaselessly to perform specialised improvements of used materials, including expertise and analysis of mechanical systems or drives. This expertise can determine the scope of any repairs needed, assess the level of wear and tear on specific components, and identify the technical upgrades required during asset maintenance.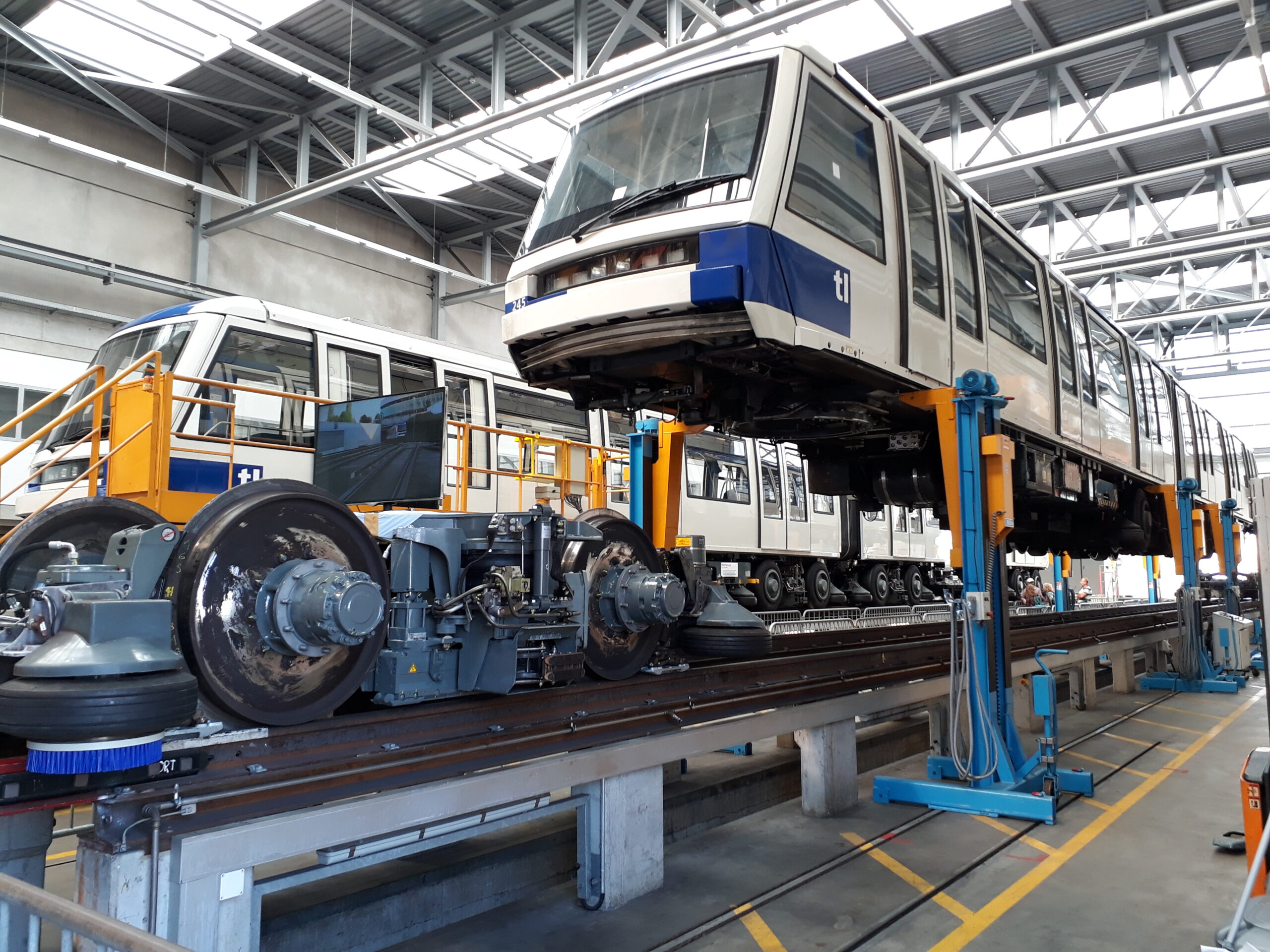 "Over 70 years of experience in engineering, producing, and maintaining mobility systems enables us to solve the most complex problems and detect the most minute deficiencies, bringing the ultimate value to our customers."
Recently, Texelis has finished overhauling the axles of the 402 CITADIS trains in the Grenoble fleet, which went into operation in 2009. This great achievement is a perfect example of the ingenuity and expertise that Texelis's customer base has come to rely on.
Texelis's success comes from its devoted and skilled employees.
"As a provider of mobility solutions, constant innovation is the source of Texelis's dynamism and competitiveness. An essential element to spark creativity is having a group of passionate and talented employees."
Texelis is focusing on reliability and availability – developing highly innovative technical solutions to respond to the changing mobility needs of our customers in terms of safety, design, quality, and comfort.
Texelis's engineering team can upgrade and check components and functions to perfectly match the original performance requirements, as well as offering obsolete management solutions and cost-reduction programmes for equipment nearing the end of its service lifecycle.
In addition to its focus on modernisation, overhaul and repair of existing products, Texelis has also put a lot of efforts toward supporting its clients with after-sales services. Customers trust Texelis to not only produce and repair their products in the most effective way possible, but they feel assured that if any product issues arise in the future, Texelis will be there to ensure quick and successful resolution of those problems.
Texelis has established a dedicated global after-sales service network to support its customers wherever they are located. We have a network of local experts trained in the maintenance and repair of mobility systems to provide fast-response, on-site customer support on five continents. Texelis's service does not end with system delivery, it supports operators and maintains systems to ensure customers get the most from their assets through Texelis's global partner network.
Texelis's customers have been extremely satisfied with the work it has done over the past year and the support it has provided during these changing times.
As a result of the consistent satisfaction of its customers, Texelis has won several contracts despite the lockdown period. These include a contract for the overhaul and upgrade of the driven axles for the entire fleet of Citadis trams currently in operation in Jerusalem and the agreement for the overhaul of the driven and trailer axles of Nottingham Citadis trams. To keep its customers functioning at their highest capacity, Texelis will also undertake new overhaul operations in Ireland from May 2021 to October 2022.
Texelis has adapted to the changing needs of its clients and it continues to provide the best service in the entire industry. Although this pandemic has caused a slowdown in the production of new materials, Laurent believes that this pandemic will end up creating positive growth for Texelis and a new awareness of the importance of environmental issues.
"The pandemic has had a major effect on our customers. The demand for trams has declined. Our business has no doubt been affected by these changes. This is the short-term impact of the pandemic on Texelis. In the long term, however, as a result of this pandemic, people will become more conscious of the environment and the impact of their actions on the environment. This will have a positive impact on our industry, whose goal is to minimise the environmental footprint of the trains."
Amidst the uncertainty that our communities still face, Texelis stands firm in support of all those affected by this pandemic. To meet the transport challenges of the future, Texelis will consistently adhere to the highest service standards in the rail industry and provide first-class maintenance for the rail vehicles worldwide – from metros, trams and people movers to unmanned systems, while further improving the sustainable performance of its products. Texelis looks forward to an amazing future supporting the transport needs of peoples around the world.