Anti-Graffiti Film: A New Layer of Defence from Vandalism
Steve Sorrentino, Director, Speciality Films, Madico, Inc. © Madico
Of all the challenges facing the operation of railways, deliberate vandalism is perhaps the most frustrating. Graffiti might sound mundane, but operators can spend millions of dollars cleaning defaced rolling stock. Nevertheless, the industry is developing effective responses to this problem. Earlier this year Railway-news reported on how the police are tackling line-side copper cable theft in the UK. In this article Steve Sorrentino, Director of Speciality Films for Madico, Inc. tells Railway-News how anti-graffiti film can reduce the impact and cost of this type of vandalism, and outlines other benefits from it:
Millions of commuters rely on rail every day whether they're going to work, visiting family and friends, or taking a vacation. Railways are also one of the most common ways to ship products and goods around the world. This reliance on transit puts a great deal of pressure on railway operators and engineers to keep passengers safe and keep trains operating efficiently. To help maintain an efficient railway system the industry relies on a variety of supporting products such as VIP-Polymer rail pads, sleeper pads, and in extreme weather, de-icing tools along with film and coatings. Many of these products have more than one use or benefit, including anti-graffiti film.
• Protection from vandalism – Unfortunately, rolling stock and passenger rail vehicles often become a target for vandalism, with no single industry or geography being immune. Vandalism of rolling stock is a worldwide problem that costs billions of dollars annually. A few years ago, the San Francisco Municipal Transportation Agency reported over 1,100 graffiti incidents on its buses and light-rail vehicles each week and the price of cleanup exceeded $12.5 million a year – the equivalent of putting three new light-rail vehicles in service (source). When anti-graffiti film is installed, it ensures that if graffiti artists deface the vehicle, their impact won't be permanent. With this film, the window or surface itself is not impacted. The film serves as a sacrificial barrier, allowing railway staff to simply pull off the layer of film and re-apply a new one. The vehicles will essentially look brand-new. Film leaves no residue which greatly reduces turnaround time if the vehicle needs maintenance. This type of film is optically clear, leaving it unnoticeable to passengers, but giving staff members peace of mind knowing the train is protected.
• UV protection – Anti-graffiti films also protect passengers from harmful UV rays, making for a more comfortable and safer ride. Film has up to 99% UV protection, and can block those harmful rays from shining in through the windows. When film is applied, passengers no longer need to deal with glare, and feeling overheated. By blocking harmful rays, film also helps to preserve flooring, paint, furnishings and other interiors.
• Energy management – Since anti-graffiti films block harmful UV rays, they also block heat from entering or leaving the vehicle taking the strain off heating and cooling systems. This can prevent overuse of HVAC systems, and help control temperatures for the comfort of passengers.
• Impact resistance – Passenger and staff safety is a top priority. Anti-graffiti films will help to hold glass together in the event of an impact. This is an important safety feature, as the glass will break, but it will not shatter – preventing thousands of flying shards from harming passengers.
• Scratch resistant – Anti-graffiti films also prevent scratches along with wear and tear. Depletion of surfaces is a challenge this industry faces due to the high number of passengers and cargo being moved each day. General wear from bags, buckles, and clips are bound to occur, leaving the aesthetic of the vehicle to look worn out when these marks are visible. Film can be applied to ensure these scratches do not stay long-term and the original components of the vehicles remain intact. Film protects the original equipment on the train, and if the scratches become significant, the film can be peeled off and a new layer can be applied.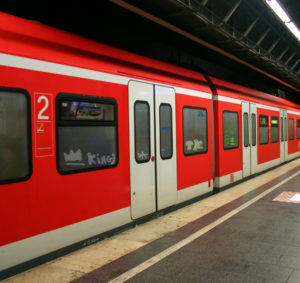 Anti-graffiti isn't the only type of film that can be applied to rolling stock vehicles. Other types include anti-spall films, which improve weight and protect against glass spall and cracking. Specialty films can also be used on railway vehicles that have electronic displays, as the film protects the screens from harm, adding to the longevity of the technology. Additionally, paint protection films can be used to protect exterior surface areas as well as escalators and highly trafficked sitting areas. Paint protection film can even be applied to vending machines at railway stations, protecting against harm or damage in the waiting area.
Advancements in the railway industry are progressing every day, with railway engineers finding better ways to make the ride faster, safer and more comfortable. Every innovation will alter the process in some way, with the protection of assets continuing to grow through railway modernisation. The railway industry must find ways to continue to protect their most valuable and precious assets: the vehicles and their passengers. Anti-graffiti film goes a long way in protecting both.