ScotRail: First of 26 Upgraded InterCity Trains Arrives in Edinburgh
UK: ScotRail has confirmed that the first vehicle in its fleet of 26 upgraded high-speed InterCity trains has arrived in Edinburgh. The train departed from Hitachi Rail Europe's Train Maintenance Centre in Doncaster and crossed the border into Scotland on Friday 17 August before arriving at the franchise's Haymarket depot.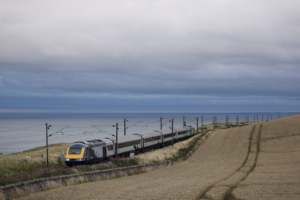 The train will enter service between Aberdeen and Edinburgh after crew training is complete.
The entire fleet is comprised of 17 five-carriage trains and 9 four-carriage trains that will be used on InterCity services between the seven cities of Scotland. The upgraded trains will offer more seats and greater luggage space than the previous versions of the model.
Chris Tait, High-Speed Trains Project Manager for ScotRail, said:
"I'm delighted that the first of our iconic trains has arrived in Scotland. They will transform rail travel in Scotland by providing more seats and a much-improved on-board environment."
The design also includes a new café area in addition to the standard at-seat trolley service.
George Davidson, Rolling Stock Manager for Transport Scotland, said:
"This is an important milestone in our efforts to improve capacity on our rail services, alongside an enhanced passenger experience. It's great to see the first of these trains arrive in Scotland and I'm sure they will make a great addition to the ScotRail fleet."
Other Announcements
In addition to the upgraded trains the franchise, which is operated by Abellio UK, has also recently announced the reinstatement of its service between Aberdeen and Dyce and the provision of 34 defibrillators in specialist storage cabinets for stations across Scotland.
The service between Aberdeen and Dyce was temporarily stopped for 14 weeks of upgrades during which Network Rail Scotland installed a second track and a new signalling system between the two stations. The upgrades were part of the Aberdeen to Inverness Improvement Project. Services on the 6.25 mile stretch of track resumed on Monday 20 August.
The defibrillators, which were purchased for £54,000 from the franchise's Service Quality Fund, have already arrived at 25 stations. In 19 of the stations the equipment is now available for use at all times, even when the station is closed. An additional 6 stations also have defibrillators, but these are currently only available when the station is open. These appliances will also become available 24/7 once the specialist storage cabinets are installed in the stations. Locations for the remaining defibrillators are still being assessed by the operator.