UK: Network Rail Releases Digital Imagery of Glasgow Queen Street Station Redevelopment
Network Rail has released new computer-generated images of the interior redevelopment of Glasgow Queen Street station. The project, which is scheduled for completion in spring 2020, is an initiative in the Edinburgh Glasgow Improvement Programme (EGIP), which Network Rail is delivering with support from the Scottish government.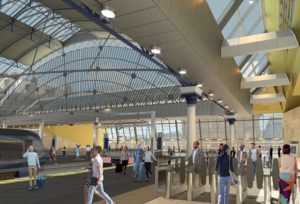 Glasgow Queen Street is the 3rd-largest station in Scotland and the redevelopment is necessary to create space for eight-carriage trains, which will provide additional seating for passengers.
The design features extensions of platforms two and five and a new glass-fronted concourse which will almost double the size of the existing space. The listed Victorian train shed roof is incorporated into the design and will remain fully exposed to passengers waiting on platforms. It will also be partially visible from outside the building. The new concourse can be entered from three different streets and will be filled with natural light.
Jenna Clark, Network Rail Project Manager, said:
"Using these latest computer generated images, passengers at Glasgow Queen Street and the surrounding community can start to visualise how much bigger and brighter their improved station will be, but the Victorian train shed roof remains a key part of the structure and will be visible throughout the enhanced station."
The demolition of redundant buildings in front of the station in order to create the space for extending the platforms and construct the concourse started in 2017. 75% of this work is now complete and the next stage is strengthening the foundations. The station will remain open throughout the redevelopment.